Grain free vs. whole grain
Answered on June 30, 2014
Created June 29, 2014 at 3:13 PM
I haven't touched a grain other than rice for a long time...
Any web browsing for healthy foods, disease-preventing diets, and longevity-promoting practices will turn up countless references to whole grain. It usually comes up high on any short-list of healthy foods but the paleo community completely rejects it.
Dietary studies constantly conclude that whole grains are good for you. I suspect a lot of this has to do with whole grains displacing more highly refined grains though (mainly white flower). Does anyone know of a study that compare diets high in whole grains to grain-free diets rather than the conventional alternative (basically white flower and sugary cereals)?
I'm not talking strictly about wheat so let's not get caught up on that. Whole grains vs. grain free...
Views




1.3K

Last Activity




1482D AGO
Get FREE instant access to our Paleo For Beginners Guide & 15 FREE Recipes!
on June 30, 2014
at 06:06 AM
Cereal based diet vs paleo....
http://www.nutritionandmetabolism.com/content/3/1/39
oh, but the subjects were domestic pigs. :)
But the results seem to indicate that avoiding a cereal based diet is something worth considering.
Another way to look at it....
In the broad spectrum of stuff eat or not eat.... are there not things better than grains to eat that are not at all questionable / potentially problematic?
I ditched grains close to 100% coming up on two years and I don't miss them. My grassfed beef, pastured eggs, wild salmon, veggies & root veggies seem to filling the bill quite nicely. I very occasionally (every other month?) have some white rice or some tasting crackers but they represent a miniscule amount of calories in my diet.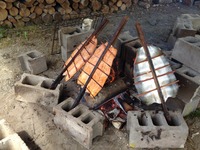 on June 29, 2014
at 07:06 PM
It probably comes down to what you believe about phytates, which would be removed to a great extent in grain processing.
http://www.ncbi.nlm.nih.gov/m/pubmed/19774556/
Explore the literature on this front. The paleo pundits damn phytates as antinutrients but the science doesn't show much to support this.
The problem with grains for most people is overeating the cheap carbs. They're problematic because they digest easily, not because they destroy colons.
on June 29, 2014
at 05:25 PM
To stop you thinking about it, there was a study about whole grains being worse than grains I read in Kresser's website
Sign in to Your PaleoHacks Account