how paleo are dead fruit flies in my whey?
Answered on September 12, 2014
Created October 20, 2011 at 12:30 AM
So, I figure that dead fruit flies in whey is VERY Paleo, but is it a health hazard? I hate to throw it away, but don't want to risk it if its bad. I am going to make another batch of Beet Kvass and will be, (or not), be using this whey.
Views




1.3K

Last Activity




1956D AGO
Get FREE instant access to our Paleo For Beginners Guide & 15 FREE Recipes!
on October 20, 2011
at 12:37 AM
"You may not think that Fruit Flies pose a health risk but they are insects and all insects pose a health risk if they hang around long enough. Fruit Flies generally hang around because there is food lying around. Fruit Flies have a life cycle of about 10 days and it doesn???t seem like much time to do any damage but they can.
Fruit flies like regular flies breed bacteria. Anything they hang around long enough is going to become infected. For example, if you are having a party and you leave an open bowl of chips on a table outside, the fruit flies are going to come. As they land on the chips they are leaving behind bacteria and who knows what else. That is why it is important that when you have an event outdoors that the food is kept sealed until you are ready to eat it.
In addition to leaving open bowls of food out, fruit flies are attracted to garbage cans. Have you ever gone to throw your trash in the outside bins and you open the cover and there are what seems like hundreds of flies. They breed around garbage. The problem with that is when they are done with the garbage they could get into your home and infest your food.
The health risk involved is that you can get really sick. There have been severe cases of sickness from fruit flies but there are no life threatening cases as far as we know of. The idea is to keep food covered at all times, not just outside but inside your home as well. Summertime is a holiday for Fruit Flies; they can fit through screens or fly in when you have the door open."
http://www.fruitflies.org/health-risks-from-fruit-flies/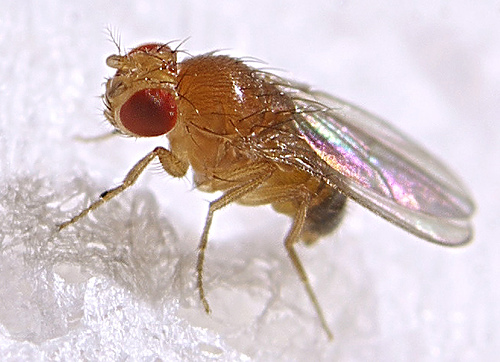 on October 20, 2011
at 02:39 AM
No offense, but this doesn't pass the "yuck test" in my book. Throw it out.
on October 20, 2011
at 03:18 AM
I'd eat it.
If I wasn't unwell after the first serve, I'd continue eating it.
People can be way to precious about this type of stuff.
Sign in to Your PaleoHacks Account