if wheat is high in phytic acid but also in phytase doesnt the phytase destroy the phytic acid?
Answered on September 12, 2014
Created June 27, 2013 at 8:22 PM
confused how it works
Views




1.3K

Last Activity




1403D AGO
Get FREE instant access to our Paleo For Beginners Guide & 15 FREE Recipes!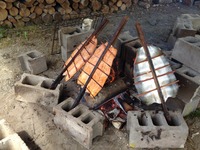 on June 27, 2013
at 10:32 PM
Phytic acid chelates metals. Could eating a piece of bread cause osteoporosis because calcium is bound up? No, because the amount of phytic acid in a piece of bread could only bind a milligram or two of calcium at most. You might get concerned if you were eating bran by the handfuls, but a piece of bread won't destroy your bones.
http://www.ingentaconnect.com/content/ap/jc/2002/00000036/00000001/art00441
By the same rationale, phytates won't go hunting for phytic acid molecules to destroy. The concentration is too low to expect that to happen in a dry grain or flour made into bread though it would be a lot more likely in a sprouting seed.
on July 12, 2013
at 05:08 PM
I'd be far more worried about gluten, WGA, gliadins, etc. and the like than the phytate. Yes, if you could get free phytase, it would counteract phytate.
on June 27, 2013
at 09:04 PM
Grains contain Phytic Acid, a mineral blocker that prevents absorption of calcium, magnesium, iron, copper and zinc. This phytic acid is found in the bran of all grains as well as the outer coating of seeds and nuts. Even after grains became more mainstream during the agricultural revolution, grains were allowed to sit in the fields for several weeks before thrashing. This allowed the grains to be exposed to the elements and to sprout. Evidence shows that sprouting increases the content of many important vitamins, and breaks down the phytic acid. Unfortunately, grains today are not sprouted and are consumed in much larger quantities than ever before. The presence of the phytates blocks the absorption of calcium, a risk factor for osteoporosis and other bone-related problems. Unfortunately, many doctors provide a low-fat, high-fiber diet and a calcium supplement for those with osteoporosis but the calcium isn???t being absorbed anyway because the phytates block its uptake.
Also check out this: http://www.naturalnews.com/031696_phytic_acid_whole_grains.html
Sign in to Your PaleoHacks Account