I switching to Paleo 3 weeks ago. In that time I have lost 10 lbs. I'm being told that it is just water weight. In my limited nutritional knowledge, can someone explain to me why our bodies expel 'water weight' when we begin to eat healthy? If you drink plenty of water every day, why isn't that 'water weight' gained right back?
Views




2.5K

Last Activity




1426D AGO
Get FREE instant access to our Paleo For Beginners Guide & 15 FREE Recipes!
on May 24, 2012
at 12:06 AM
There are several reasons for "water weight."
First -- CARBS! as someone mentioned. Your body can store about 1 lb of carbs as glycogen. Each gram of carbs can hold 3 times it's weight in water, so that's an extra 3 lbs. If you're doing low carb enough to induce ketosis (generally < 50 g carbs a day), you're depleting those glycogen stores (and thus some water along with it).
Second -- PROTEIN! High protein diets are naturally diuretic.
Third -- SALT! If you were eating a diet high in packaged, processed and/or fast food before, you were probably eating LOADS of salt. Switching to an all natural, paleo diet is naturally low in sodium. More sodium in the blood causes you to retain water, so reducing sodium will result in water loss.
Fourth -- FOOD INTOLERANCES. Nearly every IgG food intolerance report I have reviewed (100+) there is a documented intolerance to cow's milk (casein protein), gluten and/or yeast. Most people have at least 2 of those. Eating things you have a chronic, low-level intolerance to causes you to retain fluid because you're constantly inflammed. If someone is allergic to bees and they get stung, their arm will swell up like crazy. Same thing here, expect the effect is systemic (all over the body). My husband had the worst cow's milk intolerance I have seen, and when he ditched it he lost ~20 lbs over 3 months, just from fluid loss.
on May 23, 2012
at 11:35 PM
You will only expel water weight when trying to eat healthy if you are reducing your carboHYDRATES.
Some of weight lost low carb can merely be explained by reduced muscle glycogen and water weight and doesn't actually demonstrate an improved body composition or reduction in body fat mass. This is likely only on the initial stages though. If you reduce calories consistently, then fat mass will decrease too, and the key is to find the balance between protein and fat so what you're losing is mostly just fat and retaining as much muscle mass as possible.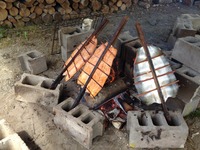 on May 24, 2012
at 12:04 AM
There are two factors in water weight loss that I know of. The first is glycogen depletion . This is driven by underfeeding, which forces the body to use up its water-rich short term energy supply. Glycogen represents as much as 5 lbs of body weight. Eating low carb reduces its replenishment by forcing the body to use fat and protein for energy. The second factor is avoiding salt. I can gain 2-3 lbs in a day by eating salty foods. My fingers and legs become puffy, and it takes a couple days of reduced salt to lose that gain.
Drinking water can cause immediate weight gain, but water has no calories and contributes nothing to water weight. It passes from the digestive system to the bloodstream to the kidneys rapidly.
Sign in to Your PaleoHacks Account