Why Drinking Water Is Important for Weight Loss...
Commented on September 09, 2013
Created September 08, 2013 at 10:47 AM
http://www.caloriesperhour.com/tutorial_water.php

Views




3.4K

Last Activity




1771D AGO
Get FREE instant access to our Paleo For Beginners Guide & 15 FREE Recipes!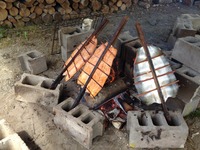 on September 08, 2013
at 01:49 PM
Testing testing where is the log-in? Oh, you have to try to post and it pops up.
OK figured out where the editor is hidden, behind the little sunflower. Next stop up and downvoting.
It looks like "like" means an upvote, based on what it did to you reputation raydawg.
on September 08, 2013
at 12:38 PM
That article is a pile of BS. While it's true that you should get enough water, there's no evidence you should or need to drink more water than you feel thirsty for. Once your urine becomes nearly colorless, you've overdone it and are causing yourself harm.
Here's a clip from that article. My answers are in bold.
There are many reasons why it is important to drink water, especially if you are dieting:
Initial weight loss is largely due to loss of water, and you need to drink an adequate amount of water in order to avoid dehydration. If you excreted that water, you didn't need it, replacing it is only going to deplete your body of electrolyutes such as potassium, salt, magnesium.
The process of burning calories requires an adequate supply of water in order to function efficiently; dehydration slows down the fat-burning process. This is true, again, don't over do it to the point where urine loses it's color.
Burning calories creates toxins (think of the exhaust coming out of your car), and water plays a vital role in flushing them out of your body. Bad analogy, we are neither bomb-calorimeters, so the calories-in/calories-out theory is false, nor are we car engine. Beta oxidation of fats in mitochondria is a very clean reaction. Burning glucose is not, so the key here is to go very low carb, which you have to do to actually lose fat - and in that case, this statement is false, false, false.
Dehydration causes a reduction in blood volume; a reduction in blood volume causes a reduction in the supply of oxygen to your muscles; and a reduction in the supply of oxygen to your muscles can make you feel tired. If this is true, then your blood is actually more concentrated, and therefore you'd get far more oxygen delivered per ml of blood to each organ. It's not like drinking water will get you more red blood cells per ml of blood - rather, the blood would be far less concentrated. So this statement is also false.
Water helps maintain muscle tone by assisting muscles in their ability to contract, and it lubricates your joints. Proper hydration can help reduce muscle and joint soreness when exercising. This is the "creatine muscle" answer - getting puffier muscles doesn't mean you're stronger, it means you're carrying around water weight. You don't tend to do that on a low-carb diet, you tend to do that on either a very high salt diet, or a very high carb diet, or if you ingest too much creatine.
A healthy (weight loss) diet includes a good amount of fiber. But while fiber is normally helpful to your digestive system, without adequate fluids it can cause constipation instead of helping to eliminate it. This is one of the reasons that SAD advocates eating grains, it happens to be false. We can get plenty of fiber to feed gut bacteria which is beneficial, we don't need actual fiber for digestion, we do just fine without it, and excess fiber can actually damage our intestines by scratching them. You won't get constipated if you don't consume useless grain fiber.
Drinking water with a meal may make you feel full sooner and therefore satisfied eating less. Note, however, that drinking water alone may not have this effect. In order to feel satiated (not hungry), our bodies need bulk, calories and nutrients. It will also dilute your stomach acid and digestive enzymes, making it more difficult to properly process food, which means you won't be able to get the proper nutrients out of the food, and it will cause problems with digestion and nutrient absorption. This is especially true for those of us who have had low stomach acid and have been taking PPIs or antacids to treat heartburn or acid reflux, in the mistaken idea that we actually have too much stomach acid. Drink AWAY from meals, not with them.
Jeez raydawg I can edit your answer but I all I wanted to do was upvote.
Sign in to Your PaleoHacks Account