Hack my RMR Results
Commented on March 19, 2013
Created February 21, 2013 at 4:43 AM
Hey Hackers. I just got some results from my Resting Metabolic Rate test (indirect calorimetry), and it makes a bit of sense why I haven't been seeing results but raises a few questions. The results are as follows:
RESTING METABOLIC RATE 1342 Calories/Day
VO2 180 ml/min
VCO2 173 ml/min
RQ 0.961
CARBOHYDRATE (%) 89%
FAT (%) 11%
Coefficient of Variation VO2 = 2.78% VCO2 = 5.20%
Now, according to this I am apparently in a State of Fat storage. I've been eating a Ketogenic diet for the past while, and yet have been well over what would be considered maintenance calories, but it makes sense why I haven't been losing any weight for the past while. Opinions would be nice, also perhaps some suggestions wouldn't go astray.
Details - Male, 76.6kg (168.8lbs), 162.5cm (5'4")
Weight training 3 times a week for ~ 1hr, plus 3 cardio sessions a week.
Thanks for taking the time to read this.
~ Cricket
Views




1.9K

Last Activity




1945D AGO
Get FREE instant access to our Paleo For Beginners Guide & 15 FREE Recipes!
on March 14, 2013
at 11:13 AM
While test results can be helpful, I find that playing around with diet and exercise yields the most precise results. In other words, a certain range of macros with a certain amount of exercise found through trial and error will probably give you better results than listening to conventional-wisdom based tests.
Also, how long is the "past while"? How much are over your RMR are you eating in a typical day? More importantly, what do you usually eat on a daily basis? Is it possible that you're losing fat and gaining muscle, which would give a scale result of weight maintenance? By the way, take measurements if you aren't already! They tell a far bigger picture than the scale alone ever could.
Based on the information you've given, I can recommend two things from experience: intermittent fasting (IF) and sprint workouts. The IF doesn't have to follow a precise formula; see how long you can and want to fast while losing weight and maintaining your sanity. Likewise, sprint when you can, or feel free to "sprint" on a bike, in a pool, etc.
In short, good news is that you aren't a metabolic freak with no hope of ever losing weight. Other news is that you will have to work to lose weight, but that doesn't mean you cannot enjoy the process.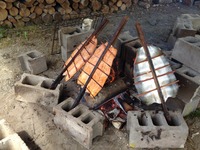 on March 14, 2013
at 12:21 PM
Thanks for posting this. I've never had this done, just used the Harris Benedict equation. The RMR you show seems low for your weight - 20% lower than I'd expect - unless you're really old. I won't speculate on what could be causing this but you might want to discuss it with your doctor. I can see how it would make weight loss difficult.
Sign in to Your PaleoHacks Account