Dr. Guyenet's "Seduced By Food" article: What is your take?
Answered on September 12, 2014
Created March 10, 2012 at 8:17 AM
Stephan Guyenet just had an article featured on Boing Boing called Seduced By Food: Obesity and the Human Brain, which he mentioned on his blog is "more concise than all the writing I've done on this blog" on the food reward concept (he also said he didn't know what was up with the image they used at the top - it definitely is a tad strange).
I've read his blog posts about food reward theory and find it incomplete as laid out thus far (hat tip to J. Stanton) yet intriguing enough for me to remain open to the concept. The kind of research Guyenet and others are doing along these lines is very well-intentioned in my opinion and may prove invaluable to the long-term big picture of trying to solve (or at least lessen) the prevalence of obesity.
I didn't really extract much that he hasn't already expounded on more in his blog (as he mentioned), but this paragraph did stand out a bit:
So if we have this built-in system to regulate body fatness, how does anyone become obese? Some researchers believe the energy homeostasis system defends against fat loss more effectively than fat gain. However, most obese people regulate their body fat just fine, but their brains ???defend??? it at a higher level than a lean person. Going back to the thermostat analogy, in obese people it???s like the ???temperature??? has been gradually turned up. That???s why it???s so hard to maintain weight loss???when body fat stores decline, the brain thinks it???s starving even if fat mass remains high???and it acts to regain the lost fat. If we want to understand how to prevent and treat obesity, first we have to understand why obese people defend a higher level of fat mass than lean people.
I actually relate to this in my own experience with being obese over the last 15 years. I recently charted my weight from 1997 to 2012 on a graph, which started at 160 in 1997 to reaching a peak of 264 lbs this past summer. Over the last 15 years, my weight did seem to increase rather steadily until I was hovering in the 220's for a few years, then on up to the 230-240's for awhile, then when I started to get into the 250's I freaked out a bit and really tried to get it under control. On six separate occasions from 2000 to 2010 I made concerted efforts to lose weight, but the long-term trend shows that I not only gained the weight back rather quickly each time, but that my overall weight range continued to increase.
Here's the graph of my weight fluctuations over the last 15 years:
June 1997 - graduated high school, 160 lbs
Aug 1997-Aug 2001 - SAD college years
August 2000 - brief Slimfast stint, lost 10 lbs
Aug 2001-Jan 2002 - dollar-menu food, hot pockets, ramen, push-ups, sit-ups, lost 10 lbs
January 2002 - started desk job, gym 2-3x per week, SAD but without pizza, fried foods, mayo, cheese and soda (all problem foods at the time)
July 2002 - still hitting the gym regularly, lowest weight as an adult of 172 lbs
October 2002 - stopped gym, added bad foods again
August 2003 - started new outside job, began drinking and smoking
Aug 2003-Aug 2005 - unrestricted SAD with lots of binging
Aug 2005-Nov 2006 - started trying to lose weight by Counting Calories and increasing walking activity in order to help get a job in real estate (then the market crashed)
April 2007 - began the "Fat-Resistance Diet" at 232 lbs (all whole foods but with grains, limited red meat, moderate fat, lots of snacking and focused on leptin), lost 25 lbs, ended by pizza relapse
December 2007 - lost my job
Dec 2007-June 2009 - sedentary, unrestricted SAD with heavy alcohol and smoking
June 2009 - hit 258 on the scale and started Walking and Counting Calories again along with eliminating alcohol, lost 20 lbs in 1 month
July 2009-September 2009 - kept mental track of food portions and hit the gym again for about 2 months
Jan 2010-Aug 2010 - sedentary SAD again while looking for jobs
Aug 2010-October 2010 - got a temp warehouse job, ate full SAD but worked 12 hrs a day, lost 25 lbs
November 2010 - got another desk job but couldn't get into the gym like last time
February 2011 - quit smoking for good
June 2011 - hit my max of 264 lbs, quit the desk job
August 2011 - quit alcohol for good, started "juicing" raw veg and fruit, lost 10 lbs
November 1st, 2011 - started Paleo (Kurt Harris' Archevore outline) at 255 pounds
March 8th, 2012 - current weight of 198 lbs
I definitely see a pattern in the overall progression of my own obesity that is similar to what Guyenet is describing when he talks about our brains defending a higher level of fat mass when we're obese. Another interesting aspect is that exercise/activity did seem to play a significant role at times (particularly when I actually did some), most noticeably when it was gym-based or when I restricted calories or problem foods vs. when I was sedentary.
Since I started Paleo though, I've remained fairly sedentary with just one set of push-ups once every week or two, and I only walk for any length of time when I leave the house for something (I work from home now). I'm going to kick up the activity with sprints and body-weight exercises a couple times a week once I hit the 6-month mark and move forward/up from there. Less than 2 months to go...
I'm curious to hear what anyone thinks of the article if you are willing to read it, and also if anyone has any similar experiences along these lines.
Views




3.5K

Last Activity




1553D AGO
Get FREE instant access to our Paleo For Beginners Guide & 15 FREE Recipes!
on March 10, 2012
at 06:56 PM
Stephan's article hit all points. He even mentioned food texture, which I argued in earlier posts has a lot to do with palatability. This is not to deny that fat mass accumulation isn't driven by insulin nor hunger by insulin. But the case for food reward is stronger than the simple "high insulin drives hunger drives obesity" theory.
If you doubt that, like I mentioned before, try having some pork rinds, which come with no carbs and will not in theory elevate insulin (it does have some protein, so insulin will rise, yes, but more slowly). You down 2-3 bags in a jiffy and you've downed a couple of hundred calories. You don't think they're addictive? You don't think you'll gain weight with them? But it is true that most hyperpalatable foods have procesed carbs in them, and starch is one such addictive ingredient, along with sugar, salt, and probably PUFA.
Edit: On surface, the insulin and carb theory seem to be correct, as carbs (especially processed carbs) actively interfere with satiety. But then a more accurate view is to realize that it's addiction driven by food reward, not just carb addiction. By addiction, it's sugar, salt, PUFA, starch, even texture, ease of delivery, packaging, and even cost.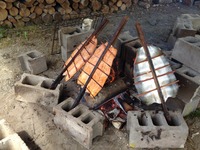 on March 10, 2012
at 01:27 PM
I like this summary. Thanks for posting it.
I also like your graph and diary of events. I have not done this and only have a vague idea what my weight was over 40 years of my life. I didn't care enough to write it down.
Seduced by food...what changed in 1980? I'm inclined to say that it wasn't the palatability and reward of the food, or the intensification of advertising. Something more like a breakdown in social inhibition seems more likely to me. Instabilities of various kinds - divorce, loss of distinct cultural identities, attitudes towards child rearing, greater permissiveness in every area - seem more likely. The deconstruction of the concept of "home", and the replacement of that concept with a drive-through version which is all-reward and no-consequences.
on March 10, 2012
at 08:37 AM
I really like Stephan's work. This is a very well written article. It will help folks understand his more complex works and/or provide a framework on which to hang things...
Sign in to Your PaleoHacks Account