Is Peri-Menopause Making Me Fat??
Commented on February 05, 2016
Created February 03, 2016 at 6:19 PM
Hi all:
I've been eating Paleo for about two years., however, I have quickly gained around 50lbs, if not more, over the last 6-8 months. I am afraid to get on the scale, but I cannot wear the clothes that I wore only a year ago. 
I'm 5'8'', and have weighed anywhere between 155 and 165 for most of my life. Now I'm around 200.
I do not eat wheat or grains of any kind except for at the rare gathering where that's what is served (I don't really have much trouble with it, although I usually regret eating it). I do not eat/drink dairy. No sugar, no snacking, no overconsumption of nuts. I eat a ton of vegetables, minimal fruits, chicken or beef as my protein and I try to eat fish at least twice a week (usually salmon). I use healthy fats in cooking such as olive, coconut or avocado oil. I don't always eat breakfast because I'm just not hungry. I do enjoy wine, and drink a couple of glasses here and there. I don't overindulge in any of the above. I never have a second helping of any meal because I always feel satiated after eating. I don't count calories.
I am not taking any supplements at this time. Not on any medications.
At my last checkup, I asked the doc what could be going on. She asked me a few questions about it and said it could be due to peri-menopause or thyroid. She checked my thyroid (they tested EVERYTHING, even antibodies, Reverse T3, etc.) and all was good. She checked hormone levels as well, but didn't seem concerned. 
She was mostly concerned with my cholesterol, only because my total cholesteral was way up, as well as my LDL, but I know that to be an effect of my diet. My HDL and Triglycerides were perfect, and my risk of CVD according to my ratio was minimal.
She told me that if i wanted, she could put me on a low-dose birth control pill for any perimenopausal symptoms (no thanks), and she wanted to re-draw my cholesterol in three months. SHe didn't have much to say about the weight gain or why it happened so quickly, and only said, "Well, you're 48 and that's just the way it is when you're approaching menopause." WTF?? 
I will admit that I have been a stay-at-home mom for about 12 years, and I don't do any sort of exercise routine aside from the usual household chores, going up and down stairs in the house several times a day. I have started walking and yoga (which feels awful right now, but I'm hoping that with time it will get better). 
Also, I've done a couple of Whole30s, but didn't feel much different after either one.
I don't feel like I'm overly stressed, so I don't think cortisol is the culprit, although I am looking into getting that tested as well.
My real question is, do I need to be doing serious exercise in addition to the way I eat in order to lose this weight? I have never been this overweight in my life, and have never had this much trouble taking off the pounds when I felt like I needed to. I feel just awful. Joint pain like you wouldn't believe, and this makes any form of exercise quite unpleasant. 
In summary: I'm 48, I've gained a crap-ton of weight although I'm doing Paleo, and I'm having slight menopausal symptoms (mild hot flashes and irregular cycles). Is Peri-menopause the cause of my problem? Or will being more active help?
Thanks for any advice :-)
Views




1.4K

Last Activity




1350D AGO
Get FREE instant access to our Paleo For Beginners Guide & 15 FREE Recipes!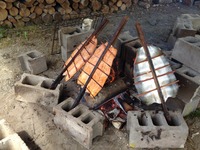 on February 03, 2016
at 09:04 PM
Being more active forces your metabolism to increase, so walking 10,000 steps a day wouldn't hurt.
Are you doing The Paleo Diet (all the lean meat, vegetables and fruit you want) or some other version?
How about measurements? Are your waist and hip diameter up a lot? Where did the 50 lbs land?
Are you eating a lot of salty foods? If I do, my fingers get fat and I can put on 5 lbs.
Sign in to Your PaleoHacks Account