Hack Jack Kronk's Latest Lab Results - Sept 2011
Answered on August 19, 2014
Created September 14, 2011 at 8:25 PM
I have not been able to see my brand new little baby niece because I had not gotten the Pertussis (whooping cough) vaccine yet. So I went in to test to see if I have immunity (which I do! yay!!). While there, I figured I would take the opp to get checked for a host of other markers as well.
So as a follow up to my question from July, I got poked again on Friday Sept 9, 2011 (70 days after last readings). This time FULLY fasted for 12 hours. lol.
Since that time, I have made the following changes: No nuts, No bananas, No creatine, less cream, less butter, less figs, less honey, less caffeine, more coconut oil, more red palm oil, more sweet potatoes and potatoes, LOTS of full sun exposure (3-5 days per week), upped lifting from 3x to 5x per week, added VitC supplementation 500mg.
The only data missing from the below results is the VAP cholesterol data, which I am still waiting on.
I will add the VAP results as soon as I get them, but looking at these numbers separately, I am encouraged that perhaps my body is happy with whatever I am doing afterall!
What do you guys make of this given my Paleo diet and concerns about blood lipids? Specifically with VitD, CRP, and Thyroid?
UPADTE: I just received the VAP numbers. To say that I'm disappointed is the biggest understatement ever. I am nearly at a loss for words. I am sorry to report this but I have to do a 180. I need to do something completely different, as all the changes I made that were supposed to be good appear to have been not good at all. Maybe my genes will not support a high fat diet. Maybe it's the starch. Seems so strange for that to be true because of my fitness and my other markers in these labs, but these cholesterol numbers are frightening. I have higher VitD, ate less fructose, waaaay less O6, and yet my Trigs and VLDL skyrocketed. Plus all the foods that were supposed to raise my HDL failed miserably in the highest order. I'm confused folks. I'm frustrated. I need help.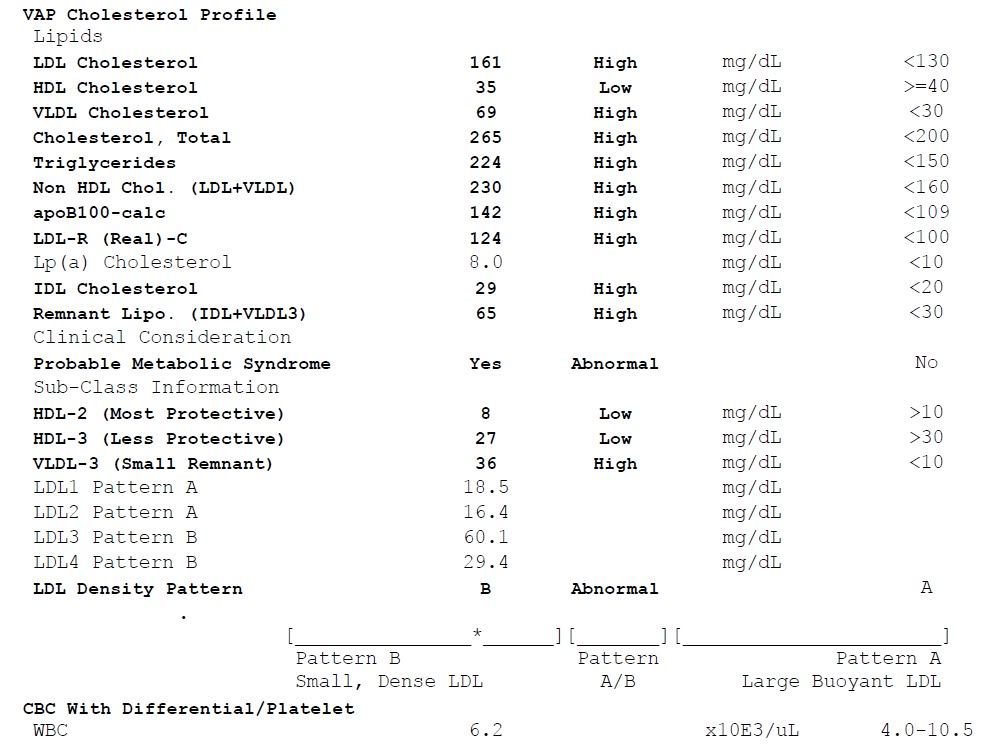 UPDATE 11/14/2011: I emailed my doc:
---
Well I am writing to you now after much thought and additional research.
I must figure out the following:
Why do I have low HDL, and predominantly high small dense LDL and high fasting triglycerides?
Why do I have the same nagging and chronic pain in my chest that has been there for quite some time now? (this feeling is fueling my drive to find out more. I absolutely cannot just live with this) Are they related? Not sure, but possibly. I know that the feeling in my chest is virtually non-existent after a good workout, which I do quite often.
So here's the deal. I need to be able to do more testing to gather more info because whatever I am (or am not) doing is not working.
I want to be tested for the following:
Testosterone levels

FULL thyroid panel, including thyroid antibodies, free T3, free T4, and rT3 etc. (and anything else that can help assess my thyroid function)

Cortisol levels

Any tests that can check the health of my liver
FOLLOW UP testing
Lipid Panel (and including VitD, CRP, Iron)
Other tests that I need:
Genetic testing (for ApoE phenotype determination)
http://www.ncbi.nlm.nih.gov/pubmed/11160558
http://www.ncbi.nlm.nih.gov/pubmed/7749804
http://www.ncbi.nlm.nih.gov/pubmed/11375438
You say below that getting Testosterone and Cortisol checked would not be of clinical significance, but I disagree, and I am again directly requesting to have this checked.
I will do whatever is necessary to get this testing done. So I guess my real intent here is to see how much of this you can help me out with.
Please let me know how I can proceed with this. Thanks.
---
My Doctor's reply was that all of the above "sounds reasonable and to setup an appt to come in and order the appropriate tests".
Making progress!!
Views




9K

Last Activity




1889D AGO
Get FREE instant access to our Paleo For Beginners Guide & 15 FREE Recipes!
Sign in to Your PaleoHacks Account