Advice regarding safe fish options on a budget
Commented on September 24, 2014
Created September 22, 2014 at 4:28 PM
I'm looking to eat healthier meat, so I'm trying to sub the chicken from my diet with frozen cod. I would prefer to eat free-range organic chicken, but it's prohibitively expensive.

Basically I'm looking for a fish source that's as healthy (with regards to no chemicals/antibiotics etc) as organic, grass-fed beef (which makes up the majority of my other protein intake). I do leangains and eat high fat on rest days, low fat on workout days, which is why I need a lean meat like cod. I'm eating it for the protein, not the nutrients (the rest of my diet is pretty good with lots of beef, pork, sardines, lard, high-quality butter, ghee, coconut oil and veg).

The cod I'll be buying is MSC Queen's Frozen Alaskan Cod fillets (can't link, but if you go on queensvis dot nl, then choose english, the "a large assortment of fresh fish">"fresh frozen fish fillets">"Cod")

It comes out at about 8 euro per kilo which is acceptable. I'd be eating about 330gs of it three times a week. What's the verdict? If any of the fish experts out there could give me the green light I'd be very relieved!

Thanks for your help



Views




853

Last Activity




1421D AGO
Get FREE instant access to our Paleo For Beginners Guide & 15 FREE Recipes!
on September 22, 2014
at 06:48 PM
I don;t know where you are, but herring, mackerel, dover sole, flounder, plaice, cod, halibut etc are all brilliant and delicious. I don't think it is possible to overeat fish so enjoy! And don't forget to eat some shellfish - super healthy too.
on September 22, 2014
at 06:06 PM
Just about any fish you buy is very safe to eat. As long as you're not eating swordfish, shark and bluefin tuna everyday of the week you should be perfectly fine. By the way if you do decide to eat any of these fish they are perfectly safe as long as you don't overdo it (more than twice per week) so practice moderation if you want to be super-safe. Freshwater fish (tilapia, swai, basa, etc) are not that good though, they're just not that nutritionally rich and they don't taste as good, saltwater fish tends to be much more nutritious and way tastier. Cod is phenomenal but you should also consider, salmon, sardines, snapper, tuna, mahi-mahi, trout, flounder/sole, herring, grouper, mackerel, hake, halibut and ono (wahoo) just to name a few. These are all excellent in terms of flavor and nutrition (specially whole sardines).
By the way chicken is also perfectly safe to eat so don't stress about getting pastured chicken (way overpriced) and just buy regular chicken (which by law contains no hormones, see USDA regulations). Also if you don't want fish which might have been treated with antibiotics, just buy wild-caught (says it on the package).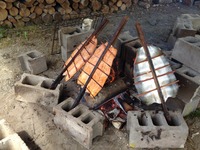 on September 24, 2014
at 05:08 PM
Cod is about the best you can do for a high protein wild fish. Another way to get cod is to buy it dried. What I see on-line is about $30 per kg, but when the fish is rehydrated the price comes down to about $5 per kg wet basis. Dried cod keeps for months, even years without spoiling.
The cheapest way of all to get cod is to buy it as dried bits, in bulk.
http://www.stockfishexpress.com/products/Stockfish-Bits3A-24-pk-7B477D-12-oz.html
This is about $19/kg dry basis, or $3/kg wet basis. It would work well for making soups and brandade, not so well for bacalan or other dishes that need filets.
Sign in to Your PaleoHacks Account