Should we be eating more sugar?
Commented on April 30, 2014
Created April 29, 2014 at 10:45 PM
Leave it to Kresser to shake things up in the paleosphere!
Apparently up to 20% (by weight!) of the food eaten by the Hazda during the wet season is pure honey! Just imagine how that translates to calorie percentage...
And another tribe is estimated to get 80% of their calories from honey during honey season.
Does that mean it's healthy? No, but it does call the demonization of all-things-sugar into question. I'm looking forward to the rest of the series.
I see the bees abuzz outside. It's honey season people! Summer time is carb season for me and I think I'll put a little honey on something tonight for a treat. I'm low on fruit after all.
We'll see what else Kresser has to say.
Views




2.5K

Last Activity




2022D AGO
Get FREE instant access to our Paleo For Beginners Guide & 15 FREE Recipes!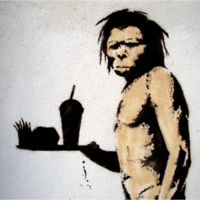 on April 30, 2014
at 04:20 PM
Just to stick with the devil's advocate role:
Honey (especially darker honey) is chock full of antioxidants and other microniturients that won't show up in a simple nutrition report such as nutritiondata.
Honey has some fairly powerful anti-inflammatory properties [1]
Honey might be good for diabetics (0_o) and appears to reduce triglycerides, LDL, total cholesterol, CRP, PGL, etc... and increase HDL [2][3] and may help with weight loss.
Compared to refined carbohydrates and table sugar, it's obviously a no-brainer.
A rat study showed that "the hypertryclyceridemic effect of fructose was not observed when fructose was provided by honey." [5] There were some other things noted that I don't totally understand but I got the impression the researchers gave honey a cautionary nod of approval.
Another rat study showed that honey lead to lower body weight and much lower epididymal fat (not sure why they use this measure in rats) when fed honey instead of sucrose. They also had far lower tryglycerides and leptin [6]. Ultimately, this was probably because honey is far more satiating than sucrose.
Perhaps someone can offer some studies showing the dangerous health impacts of honey consumption? Particularly if it's good quality honey. I'll be especially alarmed if you can show that moderate-significant consumption (maybe even up to 12% of calories - not so moderate) of raw, unrefined, honey from bees gathering wild pollen causes negative health effects.
Personally, I can hardly imagine that, in healthy metabolically resolute individuals eating a tablespoon or more of honey per day will have an adverse health impact. I suspect that an ounce or two per day could be just fine, not that I intend to eat this much myself.
on April 30, 2014
at 10:32 AM
While coming to table sugar and Honey both contains Fructose and Glucose. But the key difference is that in honey contains fructose and glucose and glucose are in different units and in table sugar they are hooked together. When talking in terms of calories one tablespoon of table sugar contains 16 calories while same one tablespoon of honey has 22 calories.Honey has different health benefits as compared with sugar.
Hadza way of life dates back millennia, living off of the land by hunting wild game, collecting wild plants and honey, and sleeping in simple grass huts in the dry African savannah.How can you make and prediction just considering a single Tribe in African savannah?
on April 29, 2014
at 11:28 PM
Going to go with no. Not even sure how this puts the demonization of sugar in question. That being said, people do claim honey has a few health promoting features.
Should we follow the nutrition of tribe peoples in africa???(or whereever) I don't see this as being wise.
As far as his article...eating sweets for depression and pain relief....hmm, I would consider it if your depression or some acute pain relief would be of greater benefit to you than the sugar consumed negatives.
Sign in to Your PaleoHacks Account