How much sugar (carbs) should you eat for optimal weight loss and thyroid function? Does going over a certain amount of sugar raise blood sugar and cause insidious weight gain? I have family members with diabetes and hashimotos so playing around with sugar could be tricky.
I've been questioning Mark's carbohydrate curve, which I have been using as a major guideline for the past few months. I haven't lost as much weight as I would like having gone low carb, (only 80-150 carbs at the start). I have lost 25 lbs and I have leaned out a lot. But can't break these last 15-25 lbs. Although I would like to lean out even more since I still have fairly large love handles and the spare tire . My energy levels were great at first, but got better after I added sugars back. I'm not sure what is a better sugar to have though. I don't want to damage my gut flora and cause a bunch of gas.
Get FREE instant access to our Paleo For Beginners Guide & 15 FREE Recipes!
on February 21, 2012
at 03:28 AM
on the carb curve topic, i quite like this one from the article http://perfecthealthdiet.com/?p=5027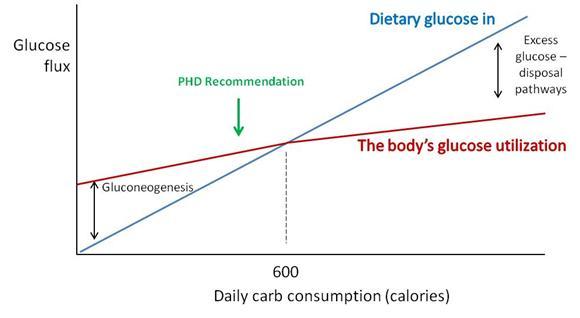 on February 21, 2012
at 02:48 AM
Mark's carb curve is a fine place to start and add or subtract from there based on how you feel, how active you are, and your goals. His upper level of 150g carbs is pretty consistent with moderate carb intake....so there is plenty of room to play around with it. Paleo carbs are primarily root veges, tubers, and fruits.
Sign in to Your PaleoHacks Account