Please! No saltines after surgery!
Answered on August 19, 2014
Created September 06, 2013 at 9:04 PM
In 5 weeks, I'm facing a c-section. This will be my 5th c-section in about 7 years, so needless to say, I'm a bit of a veteran. With each one, I've become more conscious and vocal about the drugs I'm given before, during and after surgery. That's not to say I've refused all drugs or anything, obviously, but I've just tried to educate myself as to what I feel is really and truly necessary. Since converting over to eating more Paleo, I realized that in the past, I had been told that I was given a glucose drip and I spoke with my doctor about the necessity of this for my upcoming surgery and recovery. Given the fact that all my surgeries have gone brilliantly, including recovery, I realized a glucose drip was probably totally unnecessary and was probably more of a standard protocol than anything. My doctor agreed, so this time around, I won't be getting it unless he feels it's a must. In addition, with a conversion over to Paleo in mind, I have a question for anyone who would be willing to give an answer. I have to fast for 12 hours before surgery, including water. This is to reduce vomiting during surgery (which happens to be my worst fear of the surgery itself, even though it's never happened in the past with any of them). In recovery, after several hours, the nurses have allowed me to eat saltine crackers slowly as my stomach adjusts. Since I'm starving by that point, the saltines taste like a steak and I have just continued to eat them until I can eat a real breakfast the next morning. My question is, what might be a better alternative for someone eating Paleo rather than saltines? They have told me the saltines would help with acidity and would be easier on my stomach so I didn't throw up. I was thinking of bringing nuts with me to nibble on instead, but not sure if this would be something that would be too harsh on the stomach. Any thoughts as to nuts or other things I could bring (keeping in mind throwing up is less preferred than spiking my blood sugar for a day)? I'm also still not sure how they will react to me asking for double doses of veggies or meat in replacement for breads or pasta for my meals in the 3-4 days I'm there. I suspect they will tell me I NEED the carbs since I'll be breastfeeding, but thanks to all the Paleo gurus out there and all their wonderful research, I'll be able to easily debate that.
Views




3.3K

Last Activity




1458D AGO
Get FREE instant access to our Paleo For Beginners Guide & 15 FREE Recipes!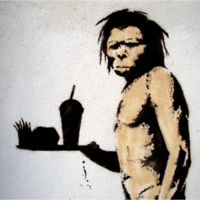 on September 06, 2013
at 09:17 PM
Rice... maybe a white potato or potato chips fried in a healthy oil.
And if they give you any crap about it just tell them you're gluten intolerant and your system will react badly to the wheat in saltines, pasta, and other junk.
In the 3-4 days just remind the docs and nurses that it's YOUR body and you have the right to decide not to eat all the extra carbs. You've done your research and probably know more about nutrition than most of the doctors in the place, considering they were never actually taught about it.
Just don't tell them off like that :-) Use more kind words and get on their good side so they'll slip you an extra hunk of roast beef.
on September 06, 2013
at 11:10 PM
Nuts are very hard on the GI, I'd avoid. Really, unless you're full-blown celiac, just eat the saltines for a little bit and quick graduate to real food.
on September 06, 2013
at 10:19 PM
Ask for broth to start with. Then maybe some veggie soup for a next meal. When I had my hyst, they started me on broth first. Crackers would have been awful for me even before paleo since I get sick eating carbs on an empty stomach. But I had a hardy stomach and quickly got to real food. I just had to convince them that I was keeping it down. Good luck!
Sign in to Your PaleoHacks Account