How long after a meal is something considered a "snack"?
Commented on April 29, 2014
Created April 29, 2014 at 6:17 PM
I've tried searching this different ways but I think there are too many buzz words. After going Paleo, I really never thought that I "snacked" until I really considered it the other day (trying to lose the last 5-10 lbs). Then I remembered that I drink a bulletproof coffee (just mct oil, no butter) about an hour after I finish lunch, and I usually have a "dessert" (usually almond butter or coconut milk with stevia) 30mins- 1 hour after dinner. Since my discovery, I have made a conscious effort to either drink my BP coffee right after lunch or have it black later, and I usually have dessert 10-15 mins after dinner. Just curious if anyone knows how long is too long to wait before eating something after a meal, because I don't really like being rushed after dinner to get the dessert.
Views




1.5K

Last Activity




1544D AGO
Get FREE instant access to our Paleo For Beginners Guide & 15 FREE Recipes!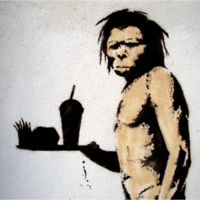 on April 29, 2014
at 06:50 PM
I wouldn't worry about it really. My personal preference (started this about a month ago when I realized IF wasn't for me, but neither was 3 round meals) is to eat two meals per day, each one followed by a flurry of easily digested paleo snacks (not the kind people bake with 10 types of flower and pretend is paleo, but like some fruit or nuts or pork skins with avocado - whole simple foods). The post-meal "snacking" lasts 4-6 hours but I just consider it part of the meal rather than a snack. I just keep eating until I don't want any more.
So far I haven't ballooned or had a heart attack or anything. In fact, my calorie consumption has stabalized and I feel like a million bucks.
Don't fret over the definition of snack.
You must JERF, young grasshopper.
Consider tracking on cronometer.com*...
*I am not affiliated in any way with cronometer.com or their subsidiaries. I just want to spread the word.
on April 29, 2014
at 06:43 PM
?????
What does the semantics of the word 'snack' have to do with paleo? Probably would have better luck asking on a grammar forum as I doubt there are many writers/editors here.
Sign in to Your PaleoHacks Account