Has anyone been salmon fishing in Alaska and brought it back frozen to the lower 48 frozen? Is it possible to catch salmon fishing from the bank? I'm trying to determine whether it makes more financial sense to go catch them myself in Alaska especially if it's much higher quality. Assume the transportation costs of getting to Alaska are zero.
Views




1K

Last Activity




1525D AGO
Get FREE instant access to our Paleo For Beginners Guide & 15 FREE Recipes!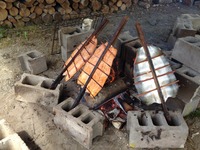 on July 11, 2013
at 09:35 PM
This is crazy. But if you've got the free tickets, fly to Vancouver or Seattle or Anchorage when the fish are running and go down to the docks or fish market. Buy all the whole fish you want, have them filleted to reduce the weight, then freeze them. Freeze them in water to keep fresh longer. Spend the rest of your time in a bar, not out on some muddy riverbank in the rain, or out on a charter boat puking your guts out and getting skunked on fish.
The night before you leave pack all your frozen fish blocks into heavy plastic bags and fill up the biggest rattiest suitcases you have and check them as luggage. Get a non-stop flight so they'll still be ice blocks when you get home.
Living out here I wait for the fish to go on sale, which is usually at the peak of a run, and stock up the freezer. I'm still working on coho I filleted out and smoked last year.
on March 11, 2013
at 09:35 PM
Yes, you can catch them from creek/river banks when they are running. It's not hard. The ones I froze and brought back to the lower 48 were much better than anything I've ever bought. Lots of fun too. As long as you're there, consider a halibut charter. That'll fill up your ice chest in a hurry.
on March 11, 2013
at 08:48 PM
Not Salmon, but I used to go on a tuna fishing trip every year out of Oregon Inlet in the Outer Banks.
Re catching them from the bank, I think it would be worth your while to hire a guide for at least one day. Otherwise you may waste your time. You can catch them off the bank but the question is "Which bank?" Also you need to do some research and be there at the right time, it's not a year-around fishery. And check the take limits so that you aren't wasting your time (if you can only bring home two salmon then not worth the effort probably). Then there are bears you have to concern yourself with.
On tuna fishing trips I would usually bring home 30-45 pounds of tuna steaks, the charter was split five ways so I think I at least broke even, but the problem is with that much tuna you have to freeze it so you aren't eating fresh tuna. I did a good job of freezing them and would eat them over 3 months or so, which means tuna was for dinner very often.
We always scheduled our trip during peak tuna season though that meant dealing with 10 foot seas some years, never in my life have I been seasick except off the Outer Banks, whoa nelly that water gets rough.
Sign in to Your PaleoHacks Account