Is ten hour fermentation enough for yogurt?
Answered on February 19, 2014
Created February 19, 2014 at 5:52 AM
I have access to a grass fed non homogenized yogurt but it's only fermented for 10 hours. I was wondering if that's long enough to be a good source of probiotics. It is of course made with pasteurized milk btw. I don't feel it's that much of a concern myself. I suppose raw milk kefir or something might be better. Anyways, do you think I would be better off with a unpasteurized sauerkraut or something. Not too interested in making any of this stuff myself.
Views




1.9K

Last Activity




2005D AGO
Get FREE instant access to our Paleo For Beginners Guide & 15 FREE Recipes!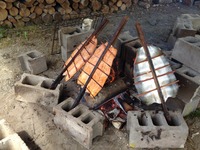 on February 19, 2014
at 11:12 AM
A yogurt batch usually takes me 5-6 hours. Once the multiplying lactobacilli thicken the milk I'm guessing they become less mobile and slow down. A longer time makes a slightly more sour product, so they're still chewing the lactose into lactic acid a little. The refrigerator pretty much stops the activity but doesn't kill them: I've been using the same culture for starter for a couple years. I'd expect the yogurt you can get is just as alive, but I've found that some supermarket yogurts are dead and useless as starter. The best way to increase the probiotic effect would be to eat more of it.
on February 19, 2014
at 06:09 AM
I gather from your post that you are asking which is 'better' between 10 hour yoghurt and saurkraut int term of bacteria... And whether 10 hours is good enough for bacteria to form at high levels in yoghurt...
My answer: if it looks and tastes like yoghurt, chances are there are probiotics in there.
What's better out of it or kraut? Neither. Depends on your goals. And both (in addition to other things too perhaps) are ideal if you want to have a broad range of bugs introduced in the system... Also something like resistant starth in potato starch might be helpful, I read more about this again lately but can't vouch for it myself... Try the 'free the animal' blog by Richard Nikoley for info there...
Why the lack o finterest in making for yourself...?
Sign in to Your PaleoHacks Account