Is Paleo Diet Pork Chop Hill?
Commented on April 25, 2014
Created April 25, 2014 at 2:24 PM
I don't mean this in the sense of real estate, but in the sense of a place where you'd want to live for the rest of your life. In the war on obesity I'm defending my health against overeating at a level of activity that maintains my weight. Paleo is a defensive position but it's not the only one. Jack Lalanne, the vegans, Atkins/Taubes, and calorie counters are other durable strongholds.
Last night I ate some memorable pork chops. This on account of being in the Paleo bunker, and I only wish I had had some oysters too. But I didn't interrogate my butcher on whether the pigs had eaten corn as their last meal. If I start doing that I might as well abandon Paleo thinking altogether. I can fight there for a few days (and call down mortar fire on Carrot Hill), but I can't live there.
Thoughts? I've always liked Evelyn, Melissa and PaNu and I won't frag them for taking up what I see as safer positions.
Views




792

Last Activity




1549D AGO
Get FREE instant access to our Paleo For Beginners Guide & 15 FREE Recipes!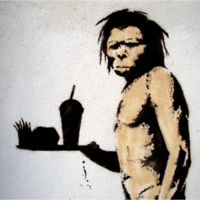 on April 25, 2014
at 03:20 PM
Personally, I'm feeling and looking great and not overly obsessing about what my meat ate before I ate it. It's not obesity I'm hunkering down against but rather degenerative diseases, discomfort, lack of energy, and digestive malaise significant enough to impede my quality of life. My mind is sharper than ever and my bowels more regular and my endurance greater. On top of all that I LOVE my food and never feel deprived. People say "oh, poor you. I'm so sorry you can't enjoy these chips or this cake" and I just laugh inside because I'm not interested. I have great food every day. This is quite the life.
That said, I'm slowly moving away from traditional "paleo" into a more comfortable but still very safe place. I still avoid grains 95%, and wheat 100%. The rare occasion I'll have some PUFA laiden industrial oils is when I really want to eat a salad I didn't make at home and mix my own dressing for. I'm no longer anti-carb, anti-chicken, or anti-much-of-anything (except the grains and industrial seed oils). I prefer my meat from animals as healthy as I'd like to be but have concluded that the difference is marginal. CAFO meats aren't toxic unless it's most of what you eat. I eat mostly veggies, fruits, and nuts/oils, having just a bit of meat each day (sometimes none). Half the meat I eat, I don't know where it came from. I'm happy knowing the other half is of excellent quality.
Yeah, I think this is my food retirement home. At least something close. I'm still tweaking variables and learning, trying to better understand each nutrient... Knowledge is power. The more you know, the more free you are to eat and feel great. Yay for crispy pork skins slathered with guacamole and egg yolk!
Sign in to Your PaleoHacks Account