Evidence that plant proteins are "toxic"?
Answered on August 19, 2014
Created May 25, 2013 at 3:44 PM
I've been taking a protein supplement called "Sun Warrior" lately, in place of the standard whey protein shakes that I had been drinking before. The source of protein is brown rice. It's labeled as "natural, gluten-free, dairy-free, non-gmo, and hyo-allergenic.
For something to be toxic, doesn't it need to illicit an immune response? How can something that's hypo-allergenic be toxic and what evidence is that that plant proteins are actually so?
Thanks in advance.
Views




5.4K

Last Activity




1428D AGO
Get FREE instant access to our Paleo For Beginners Guide & 15 FREE Recipes!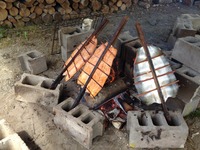 on May 25, 2013
at 04:09 PM
Here's something to kick off the discussion, though it doesn't directly address your question. http://www.ncbi.nlm.nih.gov/m/pubmed/16201743/
My takeaways are that plant proteins don't favor protein synthesis, but on the other hand might impart some CV health benefits. Which might construed to be antiinflammatory effects, but this is probably stretching.
on July 07, 2014
at 06:56 PM
I have not seen any evidence that plant proteins, as a class of dietary materials are generally toxic. The main point in the article cited above, is that when you eat animal protein, you are guaranteed to have the twenty amino acids (protein building blocks) necessary for making a mammal, like us. Of course, recent research makes it clear that other components ingested when eating animals, especially red meats, can have not-so-healthy consequences as well.
If you decide to go the vegetarian route, then you have to use your knowledge of proteins and amino acids to manage your diet to get all the amino acids necessary for proper protein maintenance of the body. Don't get me wrong, there are many amino acids, some dangerous; it's just the essential twenty that are required for the body to assemble it's own proper proteins.
In the starting post, there seems to be some confusion about toxicity and allergy. Materials that elicit a toxic response have some component that interferes with a physiological pathway. When one ingests the root of a pokeweed plant, a toxic lectin causes red blood cells to stick together, not a good plan for us mammals. But the immunosystem is not involved to any great extent. When one eats oleander, the cardiac glycosides cause the heart to change its activity. These are toxins.
The immunosytem is mostly looking for foreign proteins, specifically referred to as allergens. When a person allergic to peanuts eats one, its the immunosystem that goes after this allergen, and in such a powerful way that the inflammation response is over-played.
When one allergic to poison ivy gets exposed to urushiol, the urushiol actually attaches itself to proteins in the skin. With the urushiol attached, these skin proteins are no longer shaped the same way they are in the unexposed skin. Since the immunosystem can no longer recognize these human proteins, they are seen as 'foreign'. The body's own immunosystem then, seeing them as enemy proteins goes off and attacks the person's own skin, with the resulting oozing wounds and itching.
The article cited above goes on to say that if a person chooses the proteins from plants wisely, they offer some side benefits as well. Many vegetarians eat traditional grains to get the protein levels they need. But, if by grains you mean the grass family seeds upon our species now depends, you will be several (~6) amino acids short for healthy human proteins. A smart vegetarian supplements these traditional grains with Amaranth and some other solutions that round out the quantity of short-supply amino acids necessary.
Thanks for reading.
Sign in to Your PaleoHacks Account