Hi I have researched this but can't find anything consistent. I believe risks shouldn't always be taken. I was once keen on eating raw oysters and clams but once I read even HEALTHY people can die from that virus it really makes you step back and say "whaaaah?"
So supposedly "ahi" or "sushi" grade is how you protect yourself when you go to the store and buy raw fish, but then contrastingly I'm reading no matter what there is always the chance of getting worms, parasites, etc.
Now people will say things like "parasites are all around you" "you have them in you right now, you have worms in you right now" and I understand that. But I am being REAL here, I'm not talking about stuff that is trivial like that, I'm speaking of those worms that you end up having to go to the hospital for, I'm speaking of those urban-legend-type freaky pictures of worms the size of footballs leaking out of someone's behind, etc.
And there is never a definitive answer on freezing!! Some say freezing kills EVERYTHING but the times and temperatures are always off.
I'm just curious if science has determined an answer for this, is there a certain amount of time I can freeze, say, a chilean sea bass filet for or a tuna steak to guarantee safety? What temperature?
Thank you greatly!
Views




1.5K

Last Activity




1985D AGO
Get FREE instant access to our Paleo For Beginners Guide & 15 FREE Recipes!
on March 14, 2014
at 01:49 PM
wow interesting stuff. pretty weird how a worm out on the sidewalk would be no problem but a worm in meat can equal a bad day.. interesting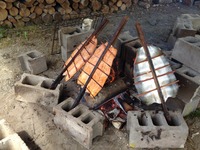 on March 14, 2014
at 12:14 PM
You don't have to dig very far. The biggest problem is what plagues all raw foods.. Sanitation..
http://www.foodsafetynews.com/2012/05/cdc-reports-316-cases-in-outbreak-linked-to-sushi-tuna/
I' d stay out of strip mall sushi bars because of salmonella, e coli, hepatitis and cholera risks before worrying about parasites.
Doing it yourself there's less risk, but you have the best control if you gather it. Because I've gotten sick on raw oysters I'm leery of restaurants and fresh jar packs. But I will eat raw oysters I pick off beaches I know, in the cold weather months.
Regarding raw fish I always stay away from salmon even if I catch it. I've returned fresh wild sockeye that had sprouted red worms. I've had no problems with other seafood. Years ago I visited the Tsukigi fish market and saw rows of whole blast frozen tuna. Extreme low temperature freezing of fresh caught fish is the way to go for parasite control in a country that eats it every day as a staple. It's not something you can do with a home freezer, even with your own fresh fish.
http://renegadehealth.com/blog/2013/09/30/1-sushi-health-risk-parasites-with-7-tips-to-protect-yourself
Sign in to Your PaleoHacks Account