What single research project could do the most to present the right picture of a healthy diet?
Answered on August 19, 2014
Created July 24, 2011 at 10:53 AM
There have been small successes here and there. GCBC summarizes various studies that show red meat and/or saturated fat don't increase the risk of certain diseases, fiber doesn't reduce the risk of colon cancer, etc. None of those results have made a discernible difference in the public perception (yes, media-driven) of the value of whole grains and evilness of saturated fats/meats.
More minor stuff has popped up - indications that grains are unhealthy, http://paleohacks.com/questions/6339/research-references-for-grain-unhealthiness#axzz1T1AKiu6p We've also thought small here at PH, http://paleohacks.com/questions/42948/feasibility-of-the-paleo-community-directly-funding-real-legitimate-and-useful-s#axzz1T1AKiu6p
What I'm asking here is, if funding existed for a giant project like the Framingham Heart Study, and I'm talking tens of millions of dollars over decades, how should it be structured to give the clearest (and most honest) picture possible of the impact of diet upon health (AND weight, since that's the current concern for many and would motivate the media/public to learn more)?
I'm not thinking about a study that starts out with questions that seek to confirm paleo principles. I'm looking for a study that starts out as neutrally as possible. What should be measured as part of that study, how should it be structured, and what questions should be asked?
NOTE: It's hard for me to think out of the box. My answer would probably be related to cholesterol but that's just because it's easy for me to think of that. I'm hoping to learn more from all you brilliant paleohackers.
Views




807

Last Activity




1426D AGO
Get FREE instant access to our Paleo For Beginners Guide & 15 FREE Recipes!
on July 24, 2011
at 12:02 PM
First part of the question: Really good, well-structured study would take decades to execute.
Second part of your question: Humans are more influenced by persuasive marketing, not good research.
Sad, but true.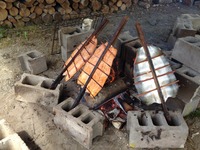 on July 24, 2011
at 11:57 AM
Framingham. There you go. Decades of commitment on a grand scale. Not 15 minutes on a blog.
Now for a single study. I'd be looking at a large population comparison on activity- say the effectiveness of the 10,000 steps per day program the HMO's promote. There would be support for such a study long term, and on a large scale. And every indicator would be tracked.
This accomplishes the main paleo mission of getting us back to what we were. Hunters and gatherers. Diet is more a matter of opportunity, and is widely disputed, so would be impossible to reach unanimous support for a large study.
Sign in to Your PaleoHacks Account