To me, Health is the vigor and vitality to live freely in my body, mind, emotional-body, voice, and spirit (or rather, ehem, to LiveBigger)...
Paleo has helped me find more of this freedom thru mental clarity, increased energy, vital fertility, eased digestion, and peaceful purpose.
Paleo has hindered me with a new vocabulary of judgment, an obsession with looking outside rather than inside for answers (ie. This website VS My own experience), and a deep struggle with punishment and guilt.
I am becoming very interested in Paleo as a floor board for my self/health, and, by intimately defining what Health is, finding the gaps which may be better filled with other tactics (such as those who eat tubers or dairy or rice, or long-distance run, or adhere 100%, or give up the Internet, or live in a nook, merely monastic...)
How does Paleo fill your definition of Health? How does it not? And what alternate routes have you explored, if any, to fill those holes?
Views




740

Last Activity




1403D AGO
Get FREE instant access to our Paleo For Beginners Guide & 15 FREE Recipes!
on July 03, 2011
at 12:55 PM
Paleo suits my definition of health simply because when one eats this way one is more able to do whatever activities they want to do. Eating this way simply removes any issues that might have blocked your goals otherwise.
How does it not? Well, its simply a way to eat. I would put forth that health incorporates more than just eating. Eating, I do indeed believe, is the fundamental basis of health, but it is not the entirety of it. After that fundament is rock solid and ready to go, then emotional well-being and physical culture should probably be fully explored for a more total health.
Alternate routes? Well, not ???alternate??? I suppose but the things other than putting food in my mouth that have lead me to what I consider to be a very good level of health are:
Developing my ability to use my body to move heavy objects without getting injured
Developing my ability to expend good deals of energy with children playing and growing without feeling like an old bastard
Speaking less; rather than blather on needlessly, simply trying to be succinct with words.
Spending time outside with as little clothing as is possible
Playing/spending time with animals (my dog being the only one at the moment)
Thinking about sex as, while of course enjoyable on a base level, a real key to feeling something that is very close to the center of who we are and I feel over many hundreds of years has been increasingly drilled out of us.
Wow, I am starting to sound like a goofball so I'll stop;)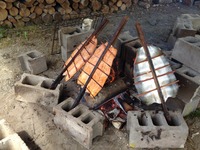 on July 03, 2011
at 01:49 PM
Doesn't sound goofy. Eating is what, 2 hours a day? Living is 24 hours a day. Hungry and active is the paleo lifestyle.
Sign in to Your PaleoHacks Account