What exactly defines the paleo lifestyle?
Answered on August 19, 2014
Created August 04, 2011 at 6:37 PM
It seems like a bit of a moving target. Anybody who does anything that nobody did 40,000 years ago simply proclaims that this isn't supposed to be a re-enactment and then moves on. Sounds somewhat like a Fully Generalizable Counter-argument, eh?
If our illustrious hunter-gatherer ancestors partook, it's paleo AWESOME. If those uncivilized bastards didn't though, who the hell cares? This isn't some sort of deranged re-enactment, after all. We all live in the modern world. C'mon bro, take it easy.
A caricature in many ways of course, but whatever. I'd like to propose a good working definition, but first some quick background. For this purpose, I like to divide the entirety of history into just 3 eras:
paleolithic
neolithic
modern
For the 1st, imagine a group of hunter-gatherers persistence hunting an antelope while others gather root vegetables. For the 2nd, imagine a family sitting at the dinner table a few centuries ago eating rice and whatever, most likely all grown, raised, or caught nearby. And the 3rd, visualize some fat dude eating at McDonalds or some 12 year old kid gorging on a box of oatmeal cream pies.
Everybody who's ever thought about their lifestyle or anything will admit that we're extremely maladapted to the modern world. Many things taste great but are terrible for us. It's hard to get to sleep on time with artificial lights and a computer messing with your sleep system. We're insensible to many modern gases that are harmful or fatal. Our body expects hard exercise in exchange for food, but that's not the case anymore. Etc.
Once we started changing our environment, our biology started dragging behind. Nowadays it's extremely far behind and this causes a MONUMENTAL amount of suffering on this planet. This ranges from amusing yet frustrating phenomenon such as night guy vs. morning guy to stuff that's impossible to laugh at without being a genuine psychopath.
Consider the difference in control over our environment between the neolithic and modern era. Absolutely crazy massive of course. Artificially selecting plants and animals pales in comparison to engineering food in a modern factory. Also consider the difference in how much time our biology had to catch up: 10,000+ years for agriculture vs. 100+ years in the case of modern "food".
Imagine a cow breeder 200 years ago vs. "one" nowadays. The difference in scale and therefore generation density, is absolutely insane. Visualize a house or town 300 years ago and then imagine a modern factory in a big city in a 1st world country.
This is all obvious stuff. The difference in environment manipulation between the 2 eras and the contrast between how long our biology had to catch up combined, it's enormous. That's why I make a three-way distinction rather than one just including before we started changing our environment vs. after.
So anyway, I simply define "paleo" as being an attempt to return to the first paradigm. There's no need to bend the word to also encompass eating dairy or something. That's just ridiculous and would end up making the entire thing meaningless. If you want to use a computer, eat dairy, and drive, then you're simply making a few compromises on the paleo front, hopefully for good reason.
So what say you? Do you agree with me, or do you have a better definition?
Get FREE instant access to our Paleo For Beginners Guide & 15 FREE Recipes!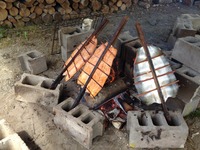 on August 04, 2011
at 07:45 PM
I agree for the most part. I'd add "modern paleo" as a fourth classification:
One who does not eat wheat products or refined sugar, but eats a lot of meat.
This is not the first classification, because the meat has to be carefully selected at Whole Foods or better, transported by mechanical means stored in a refrigerator, cooked on a stove and eaten at a table in a suburban or urban setting. Then the diet is deconstructed on a blog.
I also like that you get the paleo connection between work and eating. Most modern paleos have their head in the sand on this topic. They know the literature, but there's no paleo practicum.
on August 05, 2011
at 01:12 AM
A change in how you excersice, and realizing that spending time and effort on food will outweigh the costs of being sick.
Sign in to Your PaleoHacks Account