Now I've never been a girlie girl,...far from it actually, but I think the paleo lifestyle has definitely toughen me mentally. A year ago we started raw feeding 4 dogs,...an expensive and time consuming venture for sure. To keep costs low I beg and borrow to get free and cheap meat - almost a part time job. I have stopped short of picking up freshly hit goose on the side of the road, but I sure did have to think about it. Had it not been on such a busy street I probably would have. The other night I had a butcher call and say he had the innards of 3 hogs just killed the day before If I wanted to come pick them up. No idea what we were getting into - but curious, I picked up the 3 trash bags and we spent a fun Friday night stinking up our kitchen playing "Guess the Organ" and deciding what we wanted to keep. Big Fun. Yes that's a liver and stomach in the dish rack (everything was sanitized!)
A while back I didn't want to watch the shows Dirty Jobs or Bizzare Foods while we were eating dinner so as not to gross us out,...now I don't even blink at such things.
How has Paleo toughen you? (other than physically)
Do you have problems handling offal? I know a lot of people come from vegetarian or vegan lifestyle - that has to be an adjustment. Probably not at all for those who were hunters previously.
Are you more straight forward with people and wants now that you are Paleo?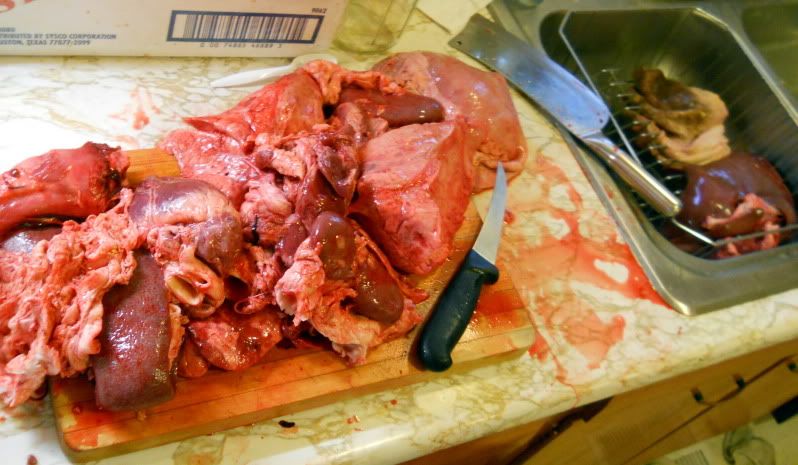 pic = insides of one hog - sans intestines which were too stinky to even take out of bag.
Views




1.7K

Last Activity




1706D AGO
Get FREE instant access to our Paleo For Beginners Guide & 15 FREE Recipes!
Sign in to Your PaleoHacks Account