Since portfolio of foods I consume are very small subset of available universe of foods, I worry a little bit of missing nutrients in the longer term and subsequent effects upon physiology of body.
I practiced a strict paleo diet and crossfit(handstand pushup and rings:muscle up/iron cross ...) for a year. I have lost around forty pounds and brain/mind works far better than previously. Results from personal experiment is very positive.
Evolutionary reasoning of paleo diets is reasonably sound but due to unavoidable scarcity of available data there are many loopholes which we may miss. Emperical evidences of long term practioners would be definitely helpful.
Question is : are there studies of long term effects in scientific study of resticted portfolio of paleo food among large spectra of edibles? I found "whats the experiences with long term paleos" by Charlie helpful in specific personal experiences. Scientific or more systematic studies of long term paleos would complement discussions of Charlie.
Views




1.7K

Last Activity




1428D AGO
Get FREE instant access to our Paleo For Beginners Guide & 15 FREE Recipes!
on November 20, 2011
at 03:35 PM
You may have more luck finding long term studies of WAPF folks, or even of gluten free folks. Paleo just went "mainstream" (ish) a few years ago, so I haven't heard of any studies that deal exclusively with the long-term effects of paleo people.
However, if you're worried about missing nutrients, you could input your daily diet into some sort of tracker--there are lots of food trackers available online, but there are also downloadable and even app ones for your phone--that will give you a break down of all the basic nutrients, vitamins, minerals, etc that you eat every day.
Most paleo folks find that, without trying, their diet broken down looks like they have eaten a multi-vitamin every day.
If you do the same thing for the SAD, you'll generally find that you're deficient in a number of crucial nutrients.
Paleo, FTW.
on November 20, 2011
at 05:02 PM
We have evolution. We have a few remnant groups of generally-paleo people who live active, healthy lives and have 4 or even 5 generations sitting around the dinner table.
I haven't read of any PALEO mice with multiple generations that have lived ancestrally.
Anyway, have you noticed 99% of modern research studies document disease rather than health? Probably because you don't prescribe drugs to stop good health.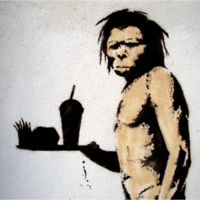 on August 09, 2013
at 05:39 PM
Firstly, there are so many takes on the Paleo lifestyle that finding evidence that YOURS is okay is a long shot. There aren't good long-term studies for MOST of the diets that pop in and out of our culture these days but I'd bet that the Paleo philosophy will spurr some. To be good they will require many, many dedicated years and funding and so tough luck unless you're willing to wait 30 years.
However, what we can, will, and probably have done in the short term are observational studies and general observational research. I'd like to bring your attention to the humans who subsisted for millennia in the far northern reaches of our planet. A quick Google in response to your query yielded this: http://discovermagazine.com/2004/oct/inuit-paradox#.UgUmoZJwosp
My take away: there are no required foods. Just required nutrients.
An interesting read, but not quite an "observational study" on par with "The China Study" (in support of veganism). Search around and I'd bet any curious browser could come up with some better resources. There are lots of other peoples all over the world whom have eaten in paleo-esque ways for many generations. Learn about how they lived and what they ate.
Personally, my approach to Paleo probably differs from yours. I don't obsessively restrict carbs. Rather, I allow myself to eat only whole, relatively unpocessed, usualy cooked food. I obstain from most grains and legumes and minimize my consumption of starches or extremely sweet fruits, but still end up with a lot of carbs in my diet from paleo friendly sources like yams and fresh fruit. I eat LOTS of veggies and meat and don't avoid saturated fats like I used to. I probably get less than half my calories from fat, but still a lot. I'd be safe increasing my fat intake and reducing my carbs if I wanted to lose weight.
I am confident that I'm not missing anything in my diet and if you are still worried, I would suggest lifting a few restrictions until you are comfortable with what you're eating for long term health while still reaping the benefits of the Paleo lifestyle.
Sign in to Your PaleoHacks Account