is this a chink in paleo theory?
Answered on August 19, 2014
Created December 15, 2012 at 3:35 AM
I saw a couple of new items on sciencedaily today:
Scientists 'Surprised' to Discover Very Early Ancestors Survived On Tropical Plants, New Study Suggests
Too Many Antibiotics? Bacterial Ecology That Lives On Humans Has Changed in Last 100 Years
The first one is pretty obvious from the title and from the second one I'm thinking that it may contribute to carb intolerance.
So what you think of these new science tidbits and how they fit in with paleo - because I'm sure my paleo-critical friends will surely be raising them as a point of conversation in the festive season get togethers.
Get FREE instant access to our Paleo For Beginners Guide & 15 FREE Recipes!
on December 15, 2012
at 04:01 AM
No.
3.5 million years ago is over a million years before we even stood up straight.. Those are considered our pre-human primate ancestors. We evolved from them probably and with that came less gut more brain. As for bacterial content changing, yes that's what happens when roughly 50% of the earth's population's calories come from refined carbs. I don't see any 'chinks in the armor'. That first article refers to us before we even had stone tools lmao. If you want to find a chink then look for cro-magnons that ate a high plant low meat diet, if you find that you can have all my points, lol.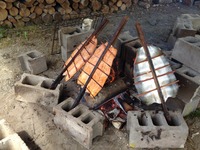 on December 15, 2012
at 01:41 PM
The important word in the first header is "survived". At some point we probably survived on plankton, but our modern ancestors date from only about 40-50,000 years.
If you buy that, you wouldn't expect much change in 100 years. The only major carb intolerance is for lactose, and adult adaptation to that has increased over the last 10,000 years. Protein intolerances (gluten and casein) same thing. Loss of these adapted tolerances is probably more a result of dietary shifts and loss of the necessary enzymes and gut bacteria.
Sign in to Your PaleoHacks Account