A very common paleo claim is that mainstream vegetable oils are inevitably rancid (or at least so commonly rancid that they're dangerous to eat). There's also much speculation about the oxidation of omega-3s.
Can anyone point me to empirical evidence for these concerns? I have not been able to find any data on actual rancidity assays of supermarket vegetable oils or point-of-sale fish oil. And yet, the test is so simple and common that I can't imagine it hasn't been done. I'll take a scientific paper, a trade journal, a blog post, anything... as long as it's based on actual testing and not just theory.
edit: To clarify, I'm talking specifically about oxidative rancidity, not about other potential health effects of various kinds of oil.
Get FREE instant access to our Paleo For Beginners Guide & 15 FREE Recipes!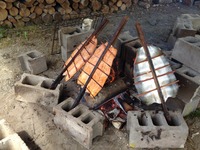 on January 06, 2014
at 11:54 AM
A few years ago I was looking for inexpensive replacements for paraffin used to make agricultural wet pack boxes. Waxes made by hydrogenating vegetable oils were marginally acceptable (more dense and brittle than paraffin), waxes made from animal fats less so (greasy and hard to solidify). We found this out in a number of field trials, and depending on oil prices paraffin/veg wax blends were used successfully in the field.
None of this involved oxidizing the oils, just hydrogenating to make them more saturated. But at one point I ran a test using soy oil to saturate box samples followed by an oven bake to oxidize the oil, akin to drying linseed oil in paint drying. Unfortunately the soy oil didn't dry to a hard waterproof state, leaving the samples as sticky as adhesive tape. Worse than that, the oven treatment gave off the strong smell of drying paint. I had only succeeded in making a PUFA go rancid in a very short time.
I don't know if this helps regarding your question. But if a PUFA has gone rancid I would expect it to have the sharp smell of drying paint when you open the bottle. I would also expect that the worst oxidative effects on the oils would occur in hot cooking (350F or higher), such as deep fat or stir frying.
on January 05, 2014
at 02:51 PM
Any PUFA can be oxidized. So sticking to oils that are low in PUFAs is the key.
The question is how do you know when it has been oxidized, when it has been subjected to an industrial extraction process analogous to a diesel refinery. The oils are heated to high temperatures, deodorized, degummed, and clarified, some are extracted with hexane - even though they may be highly oxidized, we can't just smell them to be able to tell. Part of the processing involves adding antioxidants, such as BHA/BHT in the cheaper stuff.
http://wellnessmama.com/2193/why-you-should-never-eat-vegetable-oil-or-margarine/
http://www.ifc.org/wps/wcm/connect/2cd27f0048865863b5b2f76a6515bb18/vegoil_PPAH.pdf?MOD=AJPERES
This mentions how to test for rancidity, but doesn't appear to have much you could test at home:
http://www.oilsfats.org.nz/Oxidation%20101.pdf
Perhaps you could try a test at home: seal one cup of oil in a dark container, place it next to a one cup container that's open to the air with a cheesecloth over it (to prevent contaminants from the air from falling it), wait a few days, smell both. If the oil you're testing hasn't oxidized and you know it to be high PUFA, the question is what was done to prevent oxidation, or was the oil already oxidized and deodorized? i.e. you'd want to detect it going rancid after some time as this means the oil in the bottle hasn't oxidized.
Some of the funk of rancidity is from sulfur or iron, perhaps repeat the experiment and add a bit of iron in the open container.
Sign in to Your PaleoHacks Account