Omega-6 and significance
Asked on April 02, 2016
Created August 11, 2011 at 2:36 PM
Possible Duplicate:
Straightforward: Omega 3's and Omega 6's
At what point(say in terms of grams)-for the average person- do omega-6 fats become significant as deleterious to health? Assume a skewed ration of 1:20 for Omega-3:Omega-6 in the diet? At what point-in grams or other measure- does this EVEN matter? Why not consume (realtive to percent of PUFAs) products that have a very skewed ratio of omega fats (high 6, low 3) and yet little omega fats at all---in high doses? eg. lbs. of grain-fed beef(high fat), tallow, eggs, butter, etc.... When should on estart to worry about inflammation and the gamut of other problems bound up with 0-6?
Views




1.3K

Last Activity




1346D AGO
Get FREE instant access to our Paleo For Beginners Guide & 15 FREE Recipes!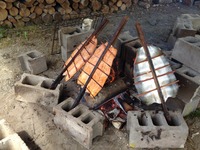 on April 02, 2016
at 05:37 PM
I've been thinking about this question a lot lately. It came from looking at a 3.5 ounce empty bag of Cheetos I found on the ground after a ball game. At 60% fat content, this was about 60 grams of fat. If the frying fat was soy, this is about 30 grams of Omega 6, or 270 calories.
How much is too much? According to WHO recommendations I found googling around, the recommended diet should contain 5-8% omega 6, so for a 2000 calorie diet, 100-160 calories of O6. According to US guidelines, 17 grams of O6 per day for an adult, or 144 calories. So by a couple of measures the sack of Cheetos idly consumed during a ball game very adequately supplies a person's daily need for O6.
Now move to the American dietary macros in 2010 using USDA's availability statistics (http://www.cnpp.usda.gov/USFoodSupply-1909-2010). By my calculation ths gives the average American diet as 12% protein/45% carbs/43% fat. On a 2000 calorie per day diet, this is 860 calories per day of fat, and if that fat is soy at 50% O6, 430 calories of O6.
Once again, how much is too much? This is 3x more than WHO recommends. At what point does the O6 have some detrimental effect other than just having food value?
Sign in to Your PaleoHacks Account