Iodine is important for thyroid health. Paleolithic humans had to have ingested it somehow, and geographic limitations probably affected their methods. How would a modern person attempt to maintain appropriate iodine levels in a natural manner?
Along with the accepted answer belong, I'm going to link to a table in Yahoo Health Groups: http://iodine4health.com/research/iodine_in_food_table.htm
Views




4.8K

Last Activity




1788D AGO
Get FREE instant access to our Paleo For Beginners Guide & 15 FREE Recipes!
on February 15, 2010
at 07:49 PM
Seaweeds are ostensibly the easiest most, natural way to get iodine. The figures seem to vary substantially though, some say that a couple of fronds of kombu should easily enough me enough iodine, but on the actual packets of the kombu I buy the numbers it gives are far, far lower. Iodine is apparantly very volatile, so I wouldn't be surprised if lots can easily be lost by any processing/packaging. I tend to soak and cook it as gently as possible. Kombu seems to be better than wakame or dulse, with nori being by far the worse for iodine.
Other seafood is also excellent as a general rule, especially haddock. Back when I was eating tinned sardines as a staple I assume iodine wasn't a problem. I don't know where specifically in fish the iodine is stored, so I'd recommend going for as close to the whole fish as possible.
I also used to get a lot of iodine from cheese, back when I was getting most of my calories from dairy (or at least I was in theory, it depends on the quality of their feed apparantly). Nowadays the only other appreciable source of iodine I get is from eggs (again, in theory, but I'm hoping my omega-3 eggs are well fed).
Iodine salt would be a good bet obviously, although here apparantly freshness matters a great deal as it rapidly loses iodine content on the shelf.
I also have a pet theory that sweetbreads (thymus gland) should contain a lot, given iodine's use for the thyroid and the fact that it's stored in the thymus in humans. I always treat my thymus glands especially gently when cooking therefore, given the volatility of iodine.
on April 20, 2011
at 12:38 AM
I take drops of Lugol's iodine solution in water. One drop every week or so. And then a bunch more - 8-25 drops in water whenever I get a scratchy throat or the chills.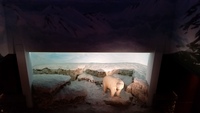 on April 20, 2011
at 12:08 AM
So I pretty much only use Pink Himalayan Salt in my salt grinder. It was cheap and I prefer the strong mineral taste to that of other salts. http://www.wbminternational.com/index.php?/pink-salt-84-jar-w/shaker-coarse5305.html
i cook just about everything at home from scratch, (occasionally we'll have some local bacon) so pretty much my salt intake comes from what I'm putting in. I dont have an issue with using salt so I salt to taste, fairly liberally. This salt is not iodized but supposedly contains natural iodine (and other minerals). We eat seafood occasionally, but not as often as I might like. I love seaweed salad, but I haven't had it in over a year, as it's not available around here (bummer). The eggs we get are pretty darn healthy though and clearly well fed. (Lady who sells them claims no soy no corn). I do eat some dairy still. I'm trying to guestimate if I'm getting enough iodine in my diet, mostly due to a few comments about its importance in recent threads I've been reading. Thoughts?
edit: i'm not even sure what an optimal amount of iodine would be or how to come up with a guideline for such things.
Sign in to Your PaleoHacks Account