Newbie here, 2 questions on Snacks and Low Energy?
Commented on November 20, 2013
Created November 20, 2013 at 1:05 AM
ok. I work 3rd shift as a Local truck Driver.. (I deliver Bread).. I have a very physical job unloading my 53' truck all by my lonesome..
I've been sidling into this paleo thing a meal at a time.. not 100% commited yet.. but trying out different things.. 2 things ive noticed I need advice on..
I need something to snack on... as a truck driver.. its easy to eat... and as a person transitioning from Sugar burner to Paleo... i want to avoid sugary snacks.. two of my favorite snacks that i used to be able to get away with on Nutrisystem... I now avoid like the plaque.. its what i get for reading about Peanuts.... no more peanut M&Ms.. or Snickers for me.. Someone gave me a Peanut butter cup the other day.. and i could feel my body react to it...
also, Last night.. I about crashed (my body not the truck).. I was soo tired.. felt like i couldnt barely do anything.. (not a good thing when i only have so much time per stop on the dock)... is there anything i can do to combat this low energy while my body is adjusting? something good sugary i can have to pick me up? its not good for me to be in that state ever again if i can help it...
Im sure there was a spot for these answers.. but ive been browsing for a while with no luck.. so appologies.. and thanks.
Get FREE instant access to our Paleo For Beginners Guide & 15 FREE Recipes!
on November 20, 2013
at 02:47 AM
do you need snacks while you are driving?? i assume ones that are easily portable and can be eaten with one hand. i like medjool dates, apples (although they are sticky), beef sticks, and lately, smoked fish. whole foods sells smoked salmon and smoked trout. it is AMAZING and they come in smallish pieces. i usually bring a fork and a can of tuna everywhere i go. i don't care if people thinks it smells. it's a nice snack to have on hand. also, i like making batches of bacon in the oven and putting in ziploc bags in the fridge. bacon still tastes good cold.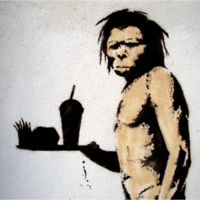 on November 20, 2013
at 02:10 AM
Something sugary = bananas. A paleo mainstay.
Berries are good too but more expensive and if I can't afford it (no offense) I'm guessing a bread truck driver is in the same boat. Else, I might switch jobs.
Non-sugary energy-dense, nearly-toxin-free = macadamia nuts.
Eat a few sweet potatoes drenched in butter with a dash of salt and either pepper or cinnamon before you go out.
You can also boil the sweet potatoes and mash them with an ounce or three of butter and a tablespoon or two of honey and you'll hardly be craving a thing for hours to come. Note: this can be a little tough to digest if you have a compromised digestive system.
Sign in to Your PaleoHacks Account