Can you do Paleo if you do not eat a lot of meat?
Commented on April 30, 2014
Created April 29, 2014 at 7:59 PM
I am new to paleo and thought it would be easy since I already am gluten & dairy free. However, I usually only eat fish....I can do turkey or chicken occasionally but no red meat. I am also struggling with the no bean thing...any advice would be helpful. and is almond milk & yogurt acceptable?
Views




1.7K

Last Activity




1937D AGO
Get FREE instant access to our Paleo For Beginners Guide & 15 FREE Recipes!
on April 30, 2014
at 02:38 AM
Yes, you can. I do a lot of eggs. I try to mix up the types of protein I consume and I also supplement with gelatin a bit too, which has a lot of health benefits.
on April 30, 2014
at 12:20 AM
If you want to become a paleo-sheep and feel the need to choke down large quantities of "paleo" food you dislike, then yeah, the strict black-n-white paleo wagon is for you.
However, I think for ultimate health you need to find balance. If you are uncomfortable choking down dinner for the rest of your life as you stick to some "diet" I don't think ultimate health is being fostered properly. If you don't like to eat large amounts of meat, I think that's fine, but make sure what you do eat is the best damn quality you can get from well cared for animals. I eat around a pound of red meat a week, which to some is like one days worth.
And also beans, I think they range from being actually really good (such as sprouted lentils or beans) to being just as crappy as other foods (canned beans, for example), making them non-paleo in the least. If you like beans, I suggest you sprout them or at least get them dried from a reputable source, NOT canned or pre-made. I think the biggest problem paleo-sheep have with beans is their gut-irritating compounds like leptin and phytates/phytic acid. But beans won't work to kill you like a McDonalds sandwich will.
Yogurt, if it's from a reputable source and you want to eat dairy, then try it out for a bit. The only yogurt I recommend is grass-fed, plain, non-homogenized and least processed yogurt possible. Overall I prefer raw dairy to pasteurized high-quality yogurt, but your opinion may differ.
Just read around a bit, actually A LOT... read both sides of the story from the hard paleo knockers to the skeptics to the 30 bananas a day people to the scientists and ultimately form your own opinion. Educated opinion, that is.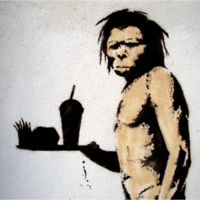 on April 29, 2014
at 08:14 PM
Certainly! I started out eating a lot of meat but realized it wasn't for me. I suggest you steer clear of turkey white meat except in moderation as it's not the most healthy. Any fish you eat should be oily cold water fish like salmon, tuna, or sardines. Steer clear of tillapia. And so long as you tolerate them well, almond milk and yogurt are fine. I don't do any of the *milks any more but still eat yogurt, kifer, and the occasional ice cream (Haaggindas). Lastly, beans are okay in moderation if properly prepared.
You'll have a bit to learn if you're not going to follow the stampeed and much bacon and steak all day but you'll probably be better off for it. The one red meat I suggest allowing is beef liver. Have it 2-6 times per month if possible.
The main thing is to have a zero refined food diet plan. Cut out anything and everything refined (or pre-packaged) with just a few exceptions. For instance, olive oil and butter are refined but okay. Crispy pork skins come from a package but are just fine in moderation. etc...
Eat plenty of fresh fruits and veggies. Get comfortable getting most of your carbs from underground storage organs like sweet potatos, parsnips, radish, carrots, and onions. There are hundreds to pick from.
JERF (Just Eat Real Food) and you'll be a lot better off than on the SAD (Standard American Diet).
Sign in to Your PaleoHacks Account