On emptiness and living in a modern world
Answered on August 02, 2015
Created April 30, 2012 at 8:38 PM
I apologize if I'm rehashing a topic that has been addressed, but I've been mulling Mark Sisson's comments regarding other aspects of living in a manner more consistent with our ancestral upbring. As I think about my own life and look at the world around me, so many things just strike me as empty. The accumulation of material possessions, the job that exists mainly to pay for those possessions, the hours spent at a desk and in front of a computer, and the related lack of meaningful connections. It just doesn't seem that wholesome or rewarding. That being said, its quite tough to break out of the rat race. Plus, when you have a successful and modern life, there is very little sympathy if you find it unfulfilling.
Any comments? Are my thoughts off base?
Alternatively, omitting details like reality, what would an idyllic life be? What sort of social system? What sort of work?
Get FREE instant access to our Paleo For Beginners Guide & 15 FREE Recipes!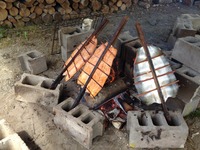 on August 02, 2015
at 12:40 PM
Act, as if your survival depended on it.
Hunting berries and buffalo doesn't give life any more meaning than going shopping. But the action requiring days of planning and physical exertion (with a small chance of success) is a lot different than a 15 minute trip for groceries that accomplishes the same thing.
To the extent that you can, pry your life out of your surroundings. Plant a garden. Walk in the rain and wind (or the summer heat) to get your groceries, and pick berries (and any other opportunities) along the way. Fish all day on the bank. Dig your clams. Catch (or harvest) it, clean it, cook it, eat it. Replace convenience with effort.
on August 01, 2015
at 03:53 PM
I'm guessing you've read Mark Sisson's Primal Connection?  He addresses a lot of this there.
Personally, I've found his advice to be good, simple, and easy, though I'm more attracted to the Stoics, Marcus Aurelius and Seneca.
Another good voice along this path is Daniel Vitalis and his Rewild Yourself magazine. I expect the podcast is good too, but I haven't yet had time to listen to it.
on August 01, 2015
at 01:49 PM
Unfortunately all I have to add is an opinion (originally hoping to come here to find answers).
General observation of modern society, suggests a great emphasis on excessiveness which can be broken down into three main contributing factors:
Feeling of emptiness (Thus a need to fill)
Selfishness (Only caring about filling the emptiness), and
Greed (Sacrificing anything to fill the emptiness).
So with this in mind what if the individual (or whole, i.e. society) were to do the antonyms of greed and selfishness, in that order, would he/she become fulfilled? This seems contridictory, how does being generous and sharing with others fill oneself?
If you look at the histories of native tribal populations of America, Australia, New Zealand, Africa you will notice a common trend for their societies was a "all for one, one for all' philosophy. 
In fact aboriginal communities would test their maturing population. They would test whether the individual would give their life for the whole (without actually giving of course...) if they didn't they were excommunicated.
In the book "Nutrition and Physical Degeneration: A Comparison of Primitive and Modern Diets and Their Effect" Weston Price says "It would be difficult to find a more happy and contented people than the primities in the Torres Strait Island as they lived without contact with the modern civilization.".
Now take a different persceptive, in the book "Bread (Edible)" William Rubel says "One might even say that the cultural critique of so much bread as 'empty calories' is in fact its greatest triumph: in its very essence is baked the cultural marker that says 'Whoever buys this does not live on bread alone.'".
I guess what I'm trying to say is... emptiness causes selfishess and greed which leads to excessiveness. In the modern societies and civilisations, my opinion would be to only take what you need and if you have more than that to share with those that need it.
Ok... but how to you determine the limits of metaphysical needs??? and can these be filled by the acquisition of physical things??? 
-M.Thornwell
Sign in to Your PaleoHacks Account