Does Phytic acid in a food only bind to its minerals? (or OTHER foods' too)?
Answered on August 19, 2014
Created May 10, 2013 at 4:25 PM
I'm trying to get up to speed on phytic acid and I'm still confused:
If you eat almonds, is the problem that:
phytic acid binds to the minerals in the almond and prevents the almond's minerals from being absorbed, or

the phytic acid also prevents other minerals in the same meal from being absorbed?
Thanks for clarifying,
Also, has anyone here ever had a real-world experience of phytic acid causing mineral deficiency or is this really just theoretical.
Mike
Views




4K

Last Activity




1886D AGO
Get FREE instant access to our Paleo For Beginners Guide & 15 FREE Recipes!
on May 10, 2013
at 05:18 PM
Let's see if I can elucidate a bit.
Phytic acid binds phosphorous (the phytate part of the molecule) - it is literally comprised of phorphorous, which renders it unusable to humans. Phytic acid chelates other minerals - meaning, that it "traps" other molecules or atoms by multiple covalent bonds (break out the high school chemistry textbook!).
So, in one case, the element Phosphorous actually makes up part of the molecule. Think of phytic acid as a magnet. Your body can't eat magnets, only ball-bearings. However, any ball-bearings that drift near the magnet become trapped by it's magnetism. That's chelation (via a poor analogy).
So, if you were to look at the vitamins and minerals for some sort of grain, you'd see Phosphorous at something like 100mg per serving. Expect this Phosphorous to be completely unusable, even after digestion, as it is the phytic acid (plus the other bits that actually make it an acid). This free phytic acid will happily chelate many minerals (like magnesium), making the ones it chelates unusable by the body even after digestion. This could be minerals from other food, or minerals in the food with the phytic acid - it depends how much of the phytic acid is already chelating minerals in the source food.
So the answer to #1 and #2 is both.
I would say the best example for mineral deficiency that's talked about is iron deficiency. Phytic acid chelates iron, and coupled with all the other reasons the human body may not be holding onto enough bioavailable iron, phytic acid definitely isn't helping the deficient.
Doing a quick and dirty search on pubmed for "phytic acid chelation" yields some interesting research, including research about how it can be a useful agent for chelating unwanted minerals like uranium.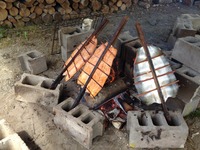 on May 10, 2013
at 09:23 PM
From a cursory search, phytic acid is a concern if a person has trouble getting enough minerals in their diet. I didn't find anything regarding how much minerals it took to overwhelm the chelation power, but given that phytic acid is only 1-2% of a whole grain, I'm guessing that most people who are not starving get enough minerals to flood out the chelant effect, and regular blood tests would reveal mineral deficiencies. If it's a concern to you, remove the phytic acid-laden paper or hull from your nuts by blanching them.
Sign in to Your PaleoHacks Account