I often hear it said (very generally) that chimps evolved into humans in large part as a result of beginning to eat meat. The way it is presented is as though chimps eating meat provided fats and proteins to the diet, which caused the brain to grow and the stomach to shrink, eventually resulting in humans.
Is this the actual theory? Because it seems to go against Darwinian evolution. It seems to imply that the traits acquired in one chimps lifetime (a brain well nourished by meat) is passed onto its offspring, and compounded through the generations. But, this seems like Lamarkian evolution (traits acquired in one lifetime being passed onto the next generation), which I thought was generally not accepted...
I haven't studied any of this in depth, but could someone explain the role of meat eating in our evolution from chimps, and how this relates to Darwinian (or perhaps Lamarkian) theories of evolution?
Views




4.4K

Last Activity




1409D AGO
Get FREE instant access to our Paleo For Beginners Guide & 15 FREE Recipes!
on January 09, 2013
at 06:31 AM
It's not Lamarckian.
(As I'm sure you know, chimps didn't evolve into humans. But I don't want to over-nitpick language that wasn't meant literally, so ... close enough. For purposes of this post, let's refer ??? inaccurately but conveniently ??? to the most recent ancestors of modern humans and modern chimps as "chimps.")
It's not that eating meat caused the first meat-eating chimps' brains to grow, and those larger brains were then passed down to the next generation.
Rather, it's that there was genetic variation among chimps for brain size. When their diets consisted mostly of fruits and leaves, the larger-than-normal brains were disadvantageous because they required more energy to sustain. More energy for the brain meant less energy for the rest of the body, including the digestive system, which meant that not as much food could be digested (and used for energy), which exacerbated the problem of the brain consuming so much energy. Chimps with bigger-than-normal brains were therefore more likely to starve, and correspondingly less likely to survive and reproduce than their normal-brain-sized cousins. There was selection pressure against increased brain sizes.
But when the diet shifted away from leaves and fruits and more toward energy-dense meats, it became easier to get enough calories (without even using the gut's full capacity) to power a bigger brain. At that point, chimps with bigger brains were no longer at a disadvantage. The increased intelligence more than made up for the increased metabolism, and suddenly chimps with bigger brains became more likely rather than less likely to survive and reproduce than their normal-brain-sized cousins.
Genes for bigger brains (and smaller guts) therefore became progressively more frequent in the gene pool.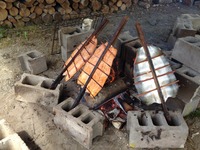 on January 09, 2013
at 08:30 PM
Well we didn't evolve to eat leaves like this monkey does with 3 stomachs. http://www.czs.org/CZS/Brookfield/Exhibit-and-Animal-Guide/Tropic-World/Colobus-Monkey
Vegetation is problematic for human digestion, on account of the cellulose. And cooking had to be invented for us to get much food value out of starchy tubers and grains.
I think our original food was things we could gather and crack. For instance, oysters year round and hazelnuts to store. Bones. Also fruits seasonally.
Sign in to Your PaleoHacks Account