Longevity & Low meat consumption
Commented on March 20, 2016
Created June 08, 2015 at 5:46 AM
Hey,
I know that longevity is specially connected with daily low kcal intake. Not diet type such as raw foodism, paleo/primal, veganism or something like that.
But just want to know what you guys think about this,
Mmh, I can't post a link cause I have no 30 posts. Just google it as "longevity tribes" and click eco-friendly-africa blabla website and read all.
Views




1.2K

Last Activity




1408D AGO
Get FREE instant access to our Paleo For Beginners Guide & 15 FREE Recipes!
on March 19, 2016
at 07:28 PM
what are the "nutrients to properly dispose of the fats", Giu? and why would individual patterns matter more than population studies? The Barbaricini live the longest (male) or second longest (females) in the world, yet they eat lard, pork, hard pecorino cheese, and all manners of meats.
on March 17, 2016
at 12:59 PM
Here is a list of 100+ of the longest living people and some info of what they eat:
justpaste . it / longelifediet
I would suggest being openminded, if this is at all possible.
One way is just to count the words most frequently mentioned and pay special attention to words not mentioned.
"vegetables", "chicken", "milk" and "ice cream", "egg", "fruit", "bacon", "chocolate", "coffee" is mentioned a lot of times.
However words like "cheese", "yogurt", "beef", "lamb", "pork", "fish", "nuts", "beans" is not mentioned much. "Yogurt" isn´t mentioned at all.
The general pattern, if there is such a thing, may be a diet higher in animal/dairy fats and relatively low in PUFA and probably not so high in red meat, yet providing animal proteins from chicken, eggs and some dairy products. Additionally it would include vegetables and some fruits. So I think all of this fits with the oxidation theory of aging.
The average "diet" based on these people does not seem to be particularly anti-inflammatory (omega-3 rich), due to the high amount of arachidonic acid in eggs and chicken, yet probably low in seafoods, nor does it appear low in carbohydrates or (natural) sugars.

I see some similarities with human milk composition and the diets promoted by Fred Kummerow (now age 101) and Ray Peat.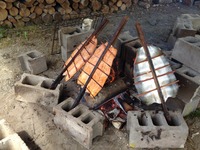 on March 17, 2016
at 06:59 PM
I like your recognition of low dietary kcal intake as a key to longevity. Here's some support for that idea:
http://www.ncbi.nlm.nih.gov/pmc/articles/PMC3919445/
This doesn't have so much to do with diet as it does having a "stay hungry" attitude. Over the years here, there's been a lot of discussion of fasting benefits, especially intermittent fasting. These arguments run counter to another school of thought, usually from HFLC and Atkins proponents, that promotes eating unlimited amounts of fat to increase satiation and stifle hunger. I agree with the fasting point of view for a long and healthy life, though IMO "just stay hungry" is probably sufficient. 
Sign in to Your PaleoHacks Account