Lipid Panel questions
Answered on September 06, 2015
Created September 03, 2015 at 3:57 AM
Hey guys, first post/question here so bear with me.
I wanted to ask if anyone out there is a real ace at analyzing and/or explaing lipid panels. I've been on a very strict diet for the past 6 months that is almost 100% paleo but for whatever reason I have some numbers that me and my doctor were both a little concerned about...and I was pretty confused about. Here were my results:
HDL: 91
HDL/LDL Ratio: 1.91
Triglycerides: 42
Chol/HDL: 3.01
Cholesterol: 272
LDL: 173
As you can see, the last two numbers, particularly the LDL, is a bit alarming. As far as fats are concerned I am eating, in order of quantity, olive oil, eggs, bacon, red meat, coconut oil, milk and cheese. I also take fish oil suppliments. The cows are 100% grass fed AND finished, the eggs are happy hens on the range, the pigs can turn around, and the oils are organic extra virgin first cold press. I am truthfully at a loss as to why my LDL and cholesterol is so high. Any thoughts?
Views




1.1K

Last Activity




1443D AGO
Get FREE instant access to our Paleo For Beginners Guide & 15 FREE Recipes!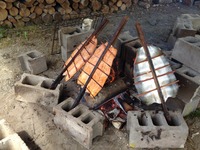 on September 06, 2015
at 11:28 AM
Plug your numbers into this
http://cvdrisk.nhlbi.nih.gov
This CV risk model is based on a huge population study. It puts strong emphasis on high HDL and low systolic blood pressure, and weak emphasis on low total cholesterol. 
Based on lipid panels posted here over the years, yours looks typical. Nice high HDL, low trigs, and LDL not as scary high as some I've seen.
on September 03, 2015
at 05:22 PM
Thanks for the info Mselich! Sadly this is the only lipid panel I have to go off of so like you said, it will be my baseline for my next one in December. I think it's great advice to try to get more fish in my diet, something I've been lacking for some time. And I'm going to switch to cooking with coconut oil everywhere I can. I'll be sure to post my next panel, hopefully the numbers are more positive. 
on September 03, 2015
at 04:23 PM

mselich 0 · 1 minute ago 
Do you have pre-paleo cholesterol data? Has there been a downward trend since you cut out sugar/grains? Without this data, it is impossible to know what this means, especially since you have only been on Paleo 6 months. If you don't have previous data, then this will become your baseline for your next test. If you are really concerned about it and want to try an experiement, I would try to drop into ketosis for 45-60 days. Also, deprioritize, not eliminate, red meat and replace it with fish. I would up the consumption of coconut oil over olive oil to get more MCTs which will kick your liver into metabolizing fats into ketone bodies faster. After you are in ketosis for 45 days, get your doctor to order another lipid panel that will differente between LDL and VLDL. Best of Luck
Sign in to Your PaleoHacks Account