Does anyone have a Tonkotsu type of pork broth recipe?
Answered on September 12, 2014
Created January 04, 2012 at 9:25 PM
We're huge fans of Tonkotsu ramen, but now that my husband has committed to going gluten free, he has been antsy about his ramen cravings. Does anyone have a good recipe for making the pork bone broth in this style? I don't know if there is anything special about it that gives it that milky color and ridiculous flavor. We're just going to make the broth with the typical ramen sides, braised pork, just no noodles. Thanks!
Views




3.4K

Last Activity




1403D AGO
Get FREE instant access to our Paleo For Beginners Guide & 15 FREE Recipes!
on January 05, 2012
at 05:49 AM
Tonkotsu broth gets it's milky color from 1) very clean pork bones and 2) a VERY long simmering time. I make this all the time at home with konnyaku noodles when I want my ramen fix; here's the recipe I use, cobbled together from experimentation and various recipes on the internets:
Broth - Phase 1
2 lb pork bones
1-2 trotters
.5 lb chicken bones
1 chicken foot
Place all bones/trotters in a stock pot filled with cold water. Bring to a rolling boil and boil for 30 minutes, until much of the blood and scum have been leached from the bones and is floating on top of the water. Dump out the water, scrub the bones of any residual scum, and then wash the pot. Return the bones to the pot. Fill with water and simmer for 4-5 hours.
Broth - Phase 2
1 head of garlic
1 onion, thinly sliced
2" of ginger, peeled and sliced
2 c lard
4 stalks spring onions
Bring the lard to frying temp (350-375*) in a medium sauce pan. In batches, deep fry the onion, garlic, and ginger until deep brown. Transfer with a slotted spoon to the broth. Then add the spring onions to the broth. Simmer another hour. Strain and cool.
Chashu Pork - Phase 3
1 lb fatty cut of pork (I use shoulder or belly)
1 c wheat-free tamari
1/2 c mirin
1/2 c sake
2" ginger, sliced
1 c pork stock
Put all ingredients into a sauce pan, cover, and simmer for about an hour, til the pork is meltingly tender.
To serve, add a few tbs of chashu cooking liquid to your tonkotsu broth. Other tasty add-ins include more mirin, chili oil, gomae, tahini etc.
Hope that helps!
**Note: tonkatsu != tonkotsu. The former is breaded and fried pork cutlets, the latter refers to the pork-based ramen served with braised fatty pork.
on January 05, 2012
at 03:21 PM
I love the Tonkatsu broth but breaking the bones always causes an explosion in my kitchen. That one I leave to the professionals but here is mine if you want to try something different sometime. It is mad tasty and given to me by my best sisterfriend who's a chef.
For a pork topping I simply use a pork shoulder and will go low and slow in the oven after rubbing with a combination of salt/sugar and letting sit in the fridge for 24-hours, roasting at 250, basting, then shredding.
Seasoning
1c sake
1c mirin
2c of wheat free light (trust me on the light) soy or tamari/coconut aminos
1 chicken
Butcher your chicken. Make sure to separate all the pieces so as much of the chicken exposed as possible.
Put it in a 450 degree oven for bout 45 minutes until browned.
When your chicken is nicely browned, move it to the stove and hit it with some heat and a touch of soy or the aminos.
Once this bubbles, scrap all that caramelized goodies up and then add all your ???juices.??? Bring that up in temperature and once it boils ??? reduce it so it simmers and leave it on your stove for 1hr or so.
Strain out the chicken, eat it UP-so good, and you???re ready to go. It???ll keep in the fridge for a few days.
Ramen broth
3??6" pieces of kelp
2c dried shitakes
4lbs. chicken
5lbs. pork bones (try to get some with a little meat on them ??? it???s for flavour)
1lb. smoked bacon
1 bunch scallions
1 onion
2 big carrots
Rinse the kelp and then put it in your stock pot along with 6 quarts of water. You want to simmer this, so you can safely just turn the heat on full blast and give it some time. Don???t let it boil though!!! Anyway, after it???s simmering (little bubbles) ??? cut the heat and let it chill for 20. Go ahead and crank your oven to 400 degrees.
Replace the konbu with your mushrooms using a slotted spoon (don???t want to take out the broth). Turn up the heat until you get a boil this time. Once it???s boiling ??? cut the heat and let things sit for about 20 to 30 minutes.
Put your pork bones on a baking sheet and toss them in your oven. 60-minutes flipping 30-minutes in.
Pull the mushrooms out and replace them with the chicken. For the next hour or so, check your broth every few minutes and do two things: skim the foam and stuff at the top and repeatedly add water when needed to keep the chicken fully submerged. Don???t forget to flip your pork bones.
While this is going on, clean and chop your carrots. Peel and cut the onion in half. Wash the scallions.
Let the chicken sit in for about 1.5 hours before removing it. However long it takes, you???re looking for the chicken fall off the bone without a fight. Make sure to get all the floating parts out too!
After you???ve cleaned the broth, add in your bacon and your pork bones. You are looking for a simmer so put enough heat on the pot to get those tiny bubbles back. If the water dips too low, just toss in some more. Yank the bacon about 45 minutes to an hour.
Let that sit, checking in every so often to make sure the water level is sufficient. Don???t replenish it anymore once it???s been on the stove for 5 hours. I always plan on cooking the broth 8 hours, but you can probably get away with 6 or 10 or whatever. The point is that 45 minutes before you???re ???done,??? add in your onions, carrots, and scallions.
Once that???s done, strain your broth.
Now, start adding in the seasoning that you made in the beginning to help with the flavor. I basically start with a cup. You want something with really pronounced flavors. When you start adding in the meat and all the other goodies it's going to effect the final flavour so I tend to go a little heavy on the seasoning.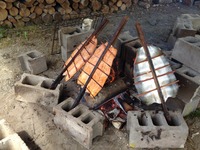 on January 04, 2012
at 10:31 PM
Why not make tonkatsu itself? A deep-fat crispy fried breaded pork tenderloin, bias sliced like a London broil. You could probably make an acceptable paleo breading from rice or potato flour, or from a gluten-free breading mix.
Sign in to Your PaleoHacks Account