Macros good. IF daily. Lifting heavy. Light cardio. Good Sleep. Cals good. No weight or bf loss in 6 weeks. Help!
Commented on March 06, 2016
Created March 03, 2016 at 12:28 AM
Here's me: 
38 yr old male.  5'11'' 220 lbs. 23% BF. 
Been tracking diet for 6 weeks now (daily averages below): 
P: 29% F: 43% C: 28% Gross Cals: 2059 Net Cals: 1759  TDEE: 2100
Activity: 
Lifting heavy 3 x week Benchpress / Front Squats / Deadlift
Not great, but not terrible: BPress 3x225. FSquat 3x200. DLift 3x295
Also do one, maybe two support lifts (low weight, high volume) and light cardio on rest days (30 min 3X week).
Sleep is good. 
Workout mornings (fasted) until lunch around 12:30pm (fast 15-16 hours daily on average). 
Sedentary job. Low-moderate stress. 
Drink wine mostly: 1-2 glasses/night. The occasional beer. Maybe a few more than that on weekends. Try to spend weekends out n about - walking, etc...
80% Paleo - No breads. No processed food. Minimal legumes. Carbs are usually from rice / sweet potatoes and the aforementioned beer. 
History: 
The first four weeks I went high protein (150-175g/day) + low carb (75-100g/day) and saw no results. 
I loosened it up a bit: kept it high fat, but lowered protein and upped carbs a bit. Mostly for convenience/ lifestyle.
Lowered cals for adjusted TDEE. 
Also switched from low-volume heavy pyramid lifting to volume training (10x10 @ 60% 1RM)
Lactose intolerant - no whey protein supplementation. 
Ancient History: 
Two years ago I was at my ideal: 15% BF / 200lbs. Doing Crossfit 3x/week. Active. Not having to stress about calories or exercise or any of that stuff. Just in a nice happy maintenance place. 
Then, I herniated a disc in my back - lifting too heavy and everything went south. Everything hurt - exercise was a challenge. Work was crazy and it all spiralled - drinking more, eating more. I was able to jog and do yoga after about a year. Then a career change and a move across country and before I knew it, I had gained twenty pounds in two years.  
To my surprise, I didn't lose that much strength once I was in a place where I could get to a gym and it feels good to finally get back to heavy(ish) weights.
Now, I want to lose at least ten pounds. Getting to 200 would be great, but I'd take 210 gladly. 
My Question(s): 
This intermittent fasting + Crossfit 3x/week + Light cardio + regimen worked great for me before and I remember seeing results much quicker (lost ten pounds in 2 months) 17% - 12% bodyfat. 
Not sure I can go much lower on calories. Could maybe maintain 1500/day during the week then a refeed on the weekends - but would rather not.  
I was much lower carb before- but read (on this site) and applied my 23andMe results to this: 

http://rockstarresearch.com/these-5-genes-predict-what-kind-of-diet-and-exercise-is-best-for-your-body-2/
I'm low-fat, not low-carb for weight loss (according to the above). 

Been patient and enjoy tracking and testing new things and routines. But after 6 weeks with no progress other than some modest strength gains - what should I adjust? Is it as simple as getting more cardio - running a bigger deficit? 
Also, I'm not doing much in the way of HIIT. Wanted to take it slow with the strength stuff and then push into more intense workouts. 
Anyway - feeling frustrated and losing motivation -any advice would be greatly appreciated. Thanks in advance. 
Views




1.4K

Last Activity




1321D AGO
Get FREE instant access to our Paleo For Beginners Guide & 15 FREE Recipes!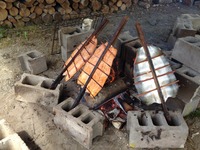 on March 03, 2016
at 01:45 PM
Sign in to Your PaleoHacks Account