A few different symptoms, dunno what to headline
Answered on December 15, 2014
Created March 29, 2014 at 10:05 AM
I'm giving paleo a second attempt and have a few new symptoms. Sometime last year I gave it my first go and went from 273 to 225 lbs. Fell off the bandwagon around the holidays as a "treat" and started again a week ago. Started at 219 and now I'm down to 211.
I think I've been in ketosis for a bit now. I'm definitely under 25g carbs a day. At home I make meals I can prepare in bulk like chili (20% fat ground beef, carrots, zucchini, onions, garlic, olive oil, spices) and when I go out I'll order a steak and substitute the sides with steamed or sauteed vegetables.
My concern is that I'm not eating enough. I'd consider it a lucky day if I can get down 800 calories. Some days it's in the 300 range. I just force down what I can. If I add in any type of work out sometimes I end the day with negative calories. Food itself doesn't make me nauseous but drinking a lot of water does. I try to drink 3-4 liters a day. No matter how little I put down I feel "full" after very few bites.
Here's what I'm experiencing:
Muscle Fatigue - After two or three jabs on the heavy bag my arm feels ready to fall off.
Insomnia - Even with cannabis I'm having an incredibly hard time falling asleep. When I do it's for 3-4 hours and I'm up for the rest of the day.
Elevated Heart-rate - I typically sit around 50-60 but lately I've been measuring at 80+.
Additional info:
I have a tremendous amount of stress in my life right now. It's not the type you can cure through a long walk or meditation. Sometime in the next week I'll be leaving the state to try and escape the negative influences around me. Yes, it's that bad. My blood pressure has gone up from 110/70 to 140/90 lately and has been giving me severe nosebleeds. I'm sure the insomnia and elevated heart-rate are more so from this than anything else.
Views




1.3K

Last Activity




1316D AGO
Get FREE instant access to our Paleo For Beginners Guide & 15 FREE Recipes!
on December 15, 2014
at 12:28 AM
hello everyone,i am Wendy Pattinson from Dallas Texas,i am 49 years old,i have suffered from High grade cervical dysplasias, so i was reading a post about HEMP OIL,by Rick Simpson oil cures cancer on YouTube, then i saw a comment by Christie Bolt, a lady from Tennessee, on how she was diagnosed and cured from HPV infections with cannabis Cream, a product by herbal doctor, called DR.HAKIM,so i decided to contacted Christie and she told me everything,and that this very doctor can help me, because i was of High grade cervical dysplasias and i was afraid so it don't develop in to cancer, then i contacted doctor Hakim directly, i never totally believed in herbal work, but i gave it a try, because i have suffered for long with this illness, i took the herbal medicine according to how doctor Hakim asked me to use it , few weeks after, i began to notice the changes and positive impact of the medicine on me then i went to my doctor for check up, result told me that the illness have disappeared from my body within a short time, and this was the greatest miracle that has happened to me in my entire life,i am sharing the good testimony because i promise dr.Hakim to speck of his good herbal work once i am cured, here his contact(dr.hakimherbalspellworld@ gmail . com ) if you have any health issue i believe doctor Hakim we help you. because i am aware he have help in reducing excessive fat in the body and also in issue like low sperm count and many others, i am not trying to praise this doctor, because the real fact is that Dr.Hakim is the best in his herbal work . .
on March 29, 2014
at 10:56 AM
Thanks guys. I'll seek some medical advice. I knew something was wrong because I LOVE food. How I got so big in the first place...eating 2-3 fast food meals or a whole pizza as a serving.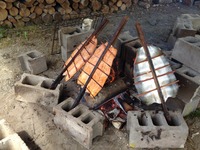 on March 29, 2014
at 10:46 AM
See a doctor. Listen to the advice you're given. Follow it.
If I eat under 2000 calories I have trouble sleeping. My stomach is empty and I get ravenous. I can't imagine what 800 calories a day would feel like.
on March 29, 2014
at 10:23 AM
At 300-800 calories you're in nutritional starvation, past the point of ketosis. You're not eating carbs or much fats, running on beef protein.. then going at a heavy bag and smoking weed? Obviously your heart rate is going to be elevated and you're going to feel fatigued. Lack of sleep will jack your BP and heart rate up considerably.
Double to triple the food.
(hell, at 300 calories, I consume 7-8 times that amount of food energy when I'm active. I've seen Peter Attia report 3300-3600 calories per day, which is 5-12 times more food than you're eating.)
4 liters of water seems like a lot for that tiny amount of food. If you dilute your electrolytes out of balance, your muscles will feel sore. It can take upwards of a month for your muscles to learn to use ketones / fatty acids, so if you're just starting out, that might explain some soreness.
Sign in to Your PaleoHacks Account