I'm still constipated!
Commented on November 27, 2013
Created November 26, 2013 at 5:23 PM
I've been constipated - well more like irregular bowel movements - for nearly 4 years now. My diet has changed drastically over the years; i have tried many diets like low FODMAPs, Paleo, Elimination Diet, Candida diet and often multiple of those at the same time. I've given up on them, since I saw minimal results. Now I don't eat beans, eggs, gluten, dairy (ish), soy and i minimize my carb load and rely mainly on protein sources. I have also tried taking probiotics, magnesium supplements, digestive enzymes, rubbing my stomach with castor oil, drinking olive oil at night and apple cider vinegar with each meal, ETC. My conclusion is that food intolerance is not the source of my problems, rather eliminating certain food groups has alleviated my symptoms. So what else could be the root cause of my problems? And don't you say genetics!! My next step is chiropractic, but you all have any words of wisdom you'd like to share?
Views




4.3K

Last Activity




2061D AGO
Get FREE instant access to our Paleo For Beginners Guide & 15 FREE Recipes!
on November 27, 2013
at 12:30 AM
Two words: Resistant Starch. Check out the posts relating to this at Free the Animal and Animal Pharm.
,
Resistant Starch. Works miracles. Check out the posts at Free the Animal and Animal Pharm. Bob's Red Mill unmodified Potato Starch is a cheap and effective source.
on November 26, 2013
at 07:08 PM
how much fiber are you eating??
insoluble fiber backs me up like nothing else. i don't eat any green vegetables (spinach, broccoli, seaweeds, green beans, etc) and i take the peel and seeds out of everything.
have you seen a gastroenterologist or had any tests done??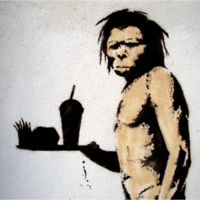 on November 26, 2013
at 06:47 PM
Make sure your thyroid is in order. I started supplementing iodine (make sure you get enough selenium in your diet) and zinc (make sure you get enough copper in your diet). You can also supplement copper and selenium if you wish.
Supplement 200-600 Mg of Magnesium every night (preferrably when you're not still digeting your food as it will neutralize your stomach acid)
Make sure you're getting enough potassium. I keep a large supply of coconut water in the fridge and drink it like I used to drink fruit juice.
Also, don't shy away from sodium. Salt your food to taste. Low sodium can bind you up as your body pulls all the water from your colon in an obsessive and futile attempt to save/extract sodium.
Take a good walk/jog 3-5 times a week. This is the only type of exercise that seems to affect bowel regularity, for me at least.
Upon waking drink lots of water and consider a cup of hot tea. do some major stretching and/or yoga type stuff. Lay on a blanket and roll and stretch in all the ways that feel right. Intermittently stop to just lay there flat and let your guts process. My girlfriend dubbed this "squirming" since I guess that's what it looks like. Your body will thank you with more than just a bowel movement. Stretch throughout the day (every single day) - especially if you spend a lot of time sitting or standing. I can't possibly over emphasize how much this activity has helped me and I've never seen it suggested anywhere. When I get home from work I lay on my back and begin to stretch, squirm, and just relax and bring my legs up and then flat, etc... just what feels right. Sometimes can immediately feel things gurgling and moving that have been sitting in my gut all day when I lay down.
Don't be afraid to take 800-1200 MG of magnesium at night after a day of constipation or particularly dry stools. Try coupling a magnesium overdose at night with a vitamin C overdose in the morning (1-2 grams of vitamin C usually does it for me). This is the most gentile, safe, and effective natural laxative combination I've ever tried and it is not habit forming.
Don't rely too heavily on protein in your diet. Get plenty of safe starches and I'm sure I don't need to tell you that most of your calories should come from saturated and monounsaturated fats. Very little from protein. Make sure your omega 3/6 are in balance. As close to 1:1 as you can get, never more than 4:1 n6:n3 ratio. This seems to be more important to bowels than most people realize
If you don't have a major problem with SIBO or something else preventing you from doing so, eat lots of widely varied fermented foods every single day. Krauts, Kosher Pickles, Kefir, Kombucha, etc...

Squat, don't sit. Squatting is the natural way. You can just put your feet on the seat and balance, or buy some sort of squatting platform. I just put my feet on the seat but I'm kind of lite.

Never hesitate when you feel the urge. Go to the bathroom and at least try. The worst thing you can do is let things get backed up. It's a lot more difficult to reverse. It took me a long time to get over my fear of public toilets but I'm glad I did. Of course, squatting above them with my shoes on helps, even if I feel kind of bad about it (I still put the seat cover down to protect other's bums as well as my shoes)

Be particular about the kind of fiber you eat. I know what binds me up and what doesn't pretty well but still learning. For instance, I recently found out that sauteed spinach will bind me up pretty bad. Of course, you don't need much fiber overall.

Check my response here: http://paleohacks.com/questions/503966/sick-of-being-constipated.html#axzz2lhho3GCi
Source: I've pretty much cured my life-long affliction with chronic constipation and dry stools.
Sign in to Your PaleoHacks Account