Hack my sudden backslide?
Answered on August 19, 2014
Created August 14, 2013 at 1:50 PM
I'm pretty stumped.
Background: I've had constipation IBS since forever; I thought I had it more or less under control when this happened:
From 7/26-8/8, I was on a wilderness canoe trip. I actually packed and ate Paleo food and didn't change my diet much, except that usually I eat no nuts at all and for this trip I was eating at least 2-3 servings of trail mix a day, just because it was convenient and I needed the calories. I also ate a little more fish than usual, but I was mainly relying on pemmican, tuna, salmon, eggs, potatoes, onions, Kerrygold, and wild blueberries. Not too shabby. Digestion was a little off but I put that down to the nuts, which I typically don't react to very well.
Re-emerged with one hell of a sunburn on 8/8 and spent a couple days doing my best with restaurant food while getting back home. Digestion still a little off, but it's restaurant food; what do you expect?
Got home on the 10th, and went right back to my normal diet, which doesn't look too different from the canoe trip diet except that I eat a lot more organ meat, bone broth, and vegetables, and 0 nuts. I don't eat fruit. Immediately my entire gut decided that it hated me forever. I got extremely constipated and bloated. This morning I took a laxative because I was tired of looking pregnant and feeling too nauseous to eat.
I've also had other symptoms to go with it. Constant low energy during the day, but I can't fall asleep at night. I can't muster up any enthusiasm for workouts I usually like; today I forced myself into the gym and got as far as lifting the bar off the rack; it felt like it weighed 100 pounds. I just couldn't find the energy to even put the plates on. I just feel all the time like nothing is worth the energy; I want to spend all day sleeping.
Before you say "it's the vegetables!" please consider that I had been eating a veggie-heavy diet for months before the trip with no issues. I have previously tried FODMAPs elimination, only cooked, etc. and none of them helped. The vegetables in the restaurant food (I ate a lot of salads) did not seem to have this effect.
I already take a magnesium supplement and I upped the dose but it didn't help. I take apple cider vinegar every evening. I have tried digestive enzymes, probiotics, and HCL in the past; the first two didn't help and the HCL helped at first but I weaned myself off it lately and was fine.
Suggestions for what this could possibly be?
Views




1.3K

Last Activity




1427D AGO
Get FREE instant access to our Paleo For Beginners Guide & 15 FREE Recipes!
on August 14, 2013
at 04:34 PM
parasite? Is there any possibility you consumed some unclean water? (And even if not on this trip, maybe some time before? It sounds like you're a seasoned camper/hiker.) You'd be surprised how many people have cryptosporidium, or other protozoa to which their body will react and cause a lot of the symptoms similar to what you described.
Treating parasites is kind of an iffy field (see badbugs.org for example - a woman who had blastocystis hominis and another parasite I think- and doctors resisted treating her for years and there was also difficulty in receiving her diagnosis because the parasite can periodically shed at times, so a stool test may not be the best indicator if the parasite isn't shedding; also, fixative (which is a preserving solution) is required, and I think only Metametrix and Great Smokies Diagnostic are companies that will use fixative and take multiple containers to perform a thorough assay of stool; I'm not sure most doctors or hospitals think about whether fixative is used or not). Therefore, for doctors to agree that parasites can cause problems like yours and that they need to be treated is not an area of huge specialty in the US....from what I've researched.
Good luck.
if you're really concerned the diagnostic test from Metametrix GI effects might be your best bet.
Just wanted to add that if it is a parasite (and I think in the US we often forget how water can be a source of pathogens-in a way we have it so good here so I understand why) or protozoal infection, then you definitely need carbs.
http://perfecthealthdiet.com/2011/10/jimmy-moore%e2%80%99s-seminar-on-%e2%80%9csafe-starches%e2%80%9d-my-reply/
"Low-carb diets, alas, impair immunity to fungal and protozoal infections. The immune defense against these infections is glucose-dependent (as it relies on production of reactive oxygen species using glucose) and thyroid hormone-dependent (as thyroid hormone drives not only glucose availability, but also the availability of iodine for the myeloperoxidase pathway). Thus, anti-fungal immunity is downregulated on very low-carb diets.
Moreover, eukaryotic pathogens such as fungi and protozoa can metabolize ketones. Thus, a ketogenic diet promotes growth and systemic invasion of these pathogens."
It sounds like your diet needs some rice, potatoes, or sweet potatoes, as well as some experimentation to find out what your body can tolerate.
Hopefully that helps.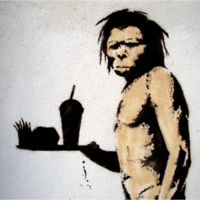 on August 14, 2013
at 03:49 PM
I have to agree that you'll probably be normal in a couple days and it's likely nothing to worry about.
I've suffered from IBS-C most of my life. It's been much better lately with improved diet and exercise but any sudden changes to my diet or schedule can still throw me into 1-3 days of no-go.
It sucks having to deal with this. I don't want to be such a creature of habit. My GF sometimes gets annoyed that I don't like to stray too much from "my routine" and it certainly puts the damper on the sort of spontaneity I myself enjoy.
In the end, I've learned to accept the occasional bout of constipation. I do my best to stick to my routine most of the time and anticipate irregularity when I deem it worthy for whatever reason to stray from my usual diet and timing of things. In an emergency, I take a laxative, but prefer to avoid them.
on August 14, 2013
at 02:49 PM
I also suffer from constipation/diarrhoea IBS. My diet sound very similar to yours and since going paleo, constipation has most definitely gotten better.
That said i still experience constipation in 2-3 day lengths. My system is very temperamental all the time. If i dont make it happen in the morning... Cie la vie try again tomorrow.
I don't know what triggers you. I will tell you what triggers me.
When my schedule is upset in the morning (alarm does not go off, very early morning commitment)
When my eat was really wacky the day b4 (bday thai restaurant feast, followed by 3 slices raw veagn cashew cheese cake (worth it... totally), 11 oz. beef liver after a day of mostly nuts and carrots)
When I over train (this is more for diarrhoea, Hero WOD Blake on 4th of july, strong man friendly competition with tire flips sled push and yolk carries)
I feel you on the low energy and enthusiasm, being bloated throws a cloud of lameness around my entire day. Its crap not crapping,plain and simple.
I don't train on constipation day (i want to but i dont) clearly my body has more pressing issues that training recovery.
Combinations of diet and schedule effect me, switching from canoe trip to your everyday world may have just been a little jarring to your system and it is responding they way it used to.
If your anything like me, you will be back to normal in a few days, there is always tomorrow.
Sign in to Your PaleoHacks Account