Many paleo folk talk about "cheating" and eating more during the weekend, but for me , it's the opposite. I can go all Saturday and Sunday or any vacation day without eating (I manage to eat one meal only if I force myself). I'm just not hungry on my days off. At the office, however, my stomach is growling and I am eagerly anticipating my breaks! I have a standing desk at work, but the most activity I get is a 15 minute walk. Maybe it's the stress/mental stimulation that makes me hungrier?
Views




4.5K

Last Activity




1855D AGO
Get FREE instant access to our Paleo For Beginners Guide & 15 FREE Recipes!
on August 07, 2013
at 01:24 AM
Yep I'm the same way. I feel like I'm starving by the time lunch comes around but when I go to eat I find I'm actually not even all that hungry. I also seem to have this insatiable thirst too -- easily drinking 3 nalegene bottles in one morning.
I think it's a combination of the stress and less sleep coupled with the need for my body to be 'doing something pleasurable' while I'm stuck sitting at my desk (which happens to be eating when I can't be active).
I try to get up for a quick walk every 30 minutes and take my lunch outside so I can get some fresh air and break up the day. I also find that getting a workout in before I head into work tends to make me want to eat less vs when I don't workout beforehand. N=1 drinking kombucha also lessens that odd 'hungry' but not really hungry feeling.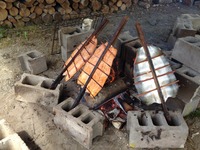 on August 08, 2013
at 04:56 PM
On weekends I'm way less sedentary. When I'm active I'm not as interested in eating. There could be something going on regarding hunger signaling (ghrelin), or it might be the distractions of being out and about, but eating slips to a lower level of priority than when I'm desk-bound.
on August 08, 2013
at 03:58 PM
Sounds like it's just boredom, something more interesting, pleasant to do than the work itself. The key words there are how you anticipate breaks. I don't think it's so much the food as it is the break itself.
It could well be hunger as stress can cause hunger once the cortisol spike goes back down. I find myself seeking salty things while at the desk, so I brought a small container of Himalayan sea salt and put a few grains in my hand and eat them when I feel this, it's a lot better than snacking on roasted nuts (which I keep to just macadamias).
If your company has a kitchenette, go there, get some water or tea or coffee, bring it back to the desk, then a few minutes later, visit the bathroom, etc. or walk over and talk to a cow-orker..
See those as breaks too and maybe the hunger will go away.
Sign in to Your PaleoHacks Account