Raw Vegan to Paleo: a two year cholesterol journey
Answered on October 20, 2014
Created October 09, 2014 at 2:58 AM
Hey all Here is a more comprhensive verision of a question i asked a few days ago. I just got my most recent Cholesterol tests and I am concerned. 
October 2014 (18 months paleo):
Total: 350
HDL: 91
LDL: 258
TRI: 80
Here are my past numbers
April 2014 (9 months paleo):
Total: 294
HDL: 91
LDL: 186
TRI: 83
June 2013 (3 month paleo)
Total: 316
HDL: 104
LDL: 204
TRI: 39
Feb 2012 (6 months raw vegan)
Total: 192
HDL: 63
LDL: 122
TRI: 33
Me: Male 27 years 6'2" 152 lbs
Lifestyle: Active bike commuter, weights a couple times a week, work on my feet.
Sleep: 7-8 hrs
Diet: Paleo, do not drink or smoke, cheat meals are nothing more substatial than some corn tortillas or a bit of dark chocolate. lowish carb (under 150 grams, all from potatoes sweet potatoes, some fruit
Whew! this reads like the worst okcupid profile ever drafted. I was happy with my april numbers and would like to get back to em. I thinking of cutting out eggs for a month (i was eating 3-5 p/day), any suggestion/ experiecnes would be a great help thanks.
Views




1.1K

Last Activity




1365D AGO
Get FREE instant access to our Paleo For Beginners Guide & 15 FREE Recipes!
on October 20, 2014
at 06:25 AM
Don't forget about the delicious and bargain priced canned fish options like: smoked clams, smoked oysters, trout, tuna and mackerel.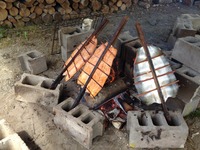 on October 10, 2014
at 03:02 AM
Cut the butter and eggs back, switch from red meat to fish for protein. Wait 3 months to see what happens.
Your HDL is phenomenal. Because of that your TC/HDL ratio has increased only slightly despite the rise in LDL, and it's an extremely good ratio, well below 5.
http://www.health.harvard.edu/fhg/updates/update0205c.shtml
See if dietary wonking the fat and protein can pull the LDL down to 200.
on October 09, 2014
at 02:48 PM
Have you had your thyroid tested? This happened to me and was found that going low carb put my thyroid (TSH) into hybernation mode and well documented here. http://perfecthealthdiet.com/2011/09/high-ldl-on-paleo-revisited-low-carb-the-thyroid/
Sign in to Your PaleoHacks Account