Does eating grain cause n-6 PUFA storage?
Answered on August 19, 2014
Created September 02, 2013 at 12:05 PM
If livestock fed a grain based diet have more stored n-6 PUFA, I would imagine this might also apply to humans fed a high-grain diet.
Does anyone have any links to evidence for this?
Thanks
Get FREE instant access to our Paleo For Beginners Guide & 15 FREE Recipes!
on September 02, 2013
at 12:47 PM
Grain is high in omega-6s, it's not that it is promoting omega-6 storage. And it's more of a lack of omega-3s in the diet that causes low omega-3s. CAFO cows, pigs and chickens don't eat grass, so they don't get a lot of dietary omega-3s.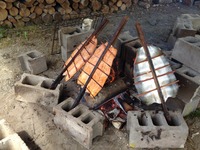 on September 02, 2013
at 12:46 PM
Who knows. This study is as far as I got, and maybe it will help some.
http://www.ncbi.nlm.nih.gov/pubmed/22972698
Among these subjects, the greater the amount of fat deposited the less unsaturated fat in the deposits. This doesn't implicate grain at all, but does imply that the fat deposits in leaner people would be expected to contain a higher % of O6, or O3, depending on which they were eating.
This might get a little closer, because it more directly addresses the deposition of PUFA by type in mammary fat, and the negative effect of O6 in breast cancer.
http://www.ncbi.nlm.nih.gov/pubmed/12416257
It doesn't include evidence for grain promoting O6 deposition though.
Sign in to Your PaleoHacks Account