Troubleshoot my macros for fat loss PLS? :)
Hey all. First time asking a question here. 
I've toyed with Paleo over the course of the last 9 months and done two full rounds of the Whole30 program, which I love and is great for my body (I'm planning a third round for the end of November, that's how much I love how it makes me feel). After the first round I went back to SAD eating, but after the second round in July I've been almost entirely paleo and I feel great. I've started working out like never before, running 4 days a week (running! I've never run before!) and doing power yoga a couple times a week as well.
My question relates to weight loss and how to keep it up… I'm a 24 year old female and I'm 5'4''. I started at the beginning of July at a record high of 162 lbs and when I weighed in this week I was at 144 lbs. My ending goal weight is 120 lbs and I'd like to be there by the end of this year, which would necessesitate a weight loss of slightly less than 1.5 lbs/week, which I feel is super reasonable and attainable.
I was wondering if I posted a few sample days of meal logs if anyone could give me some feedback on what I could optimize or tweak to help me with my goals? I KNOW one thing I need to do is limit my alcohol intake further, but other than that? Below are a few sample days… if anybody has any ideas or input I would really appreciate it as I'm very motivated and open to advice!
Cup of green tea
3 slices Never Any! uncured bacon
2 eggs fried in bacon fat
Smoothie with banana, tropical fruit mix, and cashew milk
La Croix
Chicken with apple and sweet potato slow cooked
Roasted broccoli
Tequila mule
Vegan carrot jalapeno soup
1 glass red wine
Water intake: Half a gallon
Exercise: Jogged 2.1 miles
Cup of green tea
Leftover slow cooker chicken with apple and sweet potato
2 eggs fried in olive oil
Half an avocado with Cholula sauce
La Croix, much La Croix
1 apple
Half a dairy-free tapioca/coconut pizza with veggies and bacon
Water intake: < Half a gallon
Exercise: 1 hour vinyasa flow
La Croix
Larabar
3 slices of bacon
2 pieces of melon and a few blueberries
Cup of coffee
Smoothie with banana, berry mix, and cashew milk
Cup of green tea
Plantain chips with Wholly Guacamole/pico
Sweet potato fries with tomato dipping sauce
Burger patty over chard with baconnaise and Valentina's
Water intake: Half a gallon
Exercise: Ran 2.1 miles
Cup of green tea
2 eggs fried in coconut oil
Roasted garlic broccoli
1 coconut flour pumpkin/bacon/chive biscuit
Mug of roasted butternut squash and apple soup
Frozen grapes
Small portion of slow cooker chicken with apple and sweet potato
1 Ace Pear Cider
Café Coco burger patty with lettuce, tomato & onion
Small portion corn chips with homemade salsa
Water intake: < Half a gallon
Exercise: 30 minute power vinyasa flow
These are just a few sample days from my food/fitness journal but hopefully someone can lend a little veteran advice! Thanks!
Get FREE instant access to our Paleo For Beginners Guide & 15 FREE Recipes!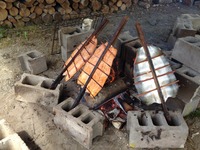 on October 02, 2015
at 02:55 PM
What you're doing looks vaguely Paleo, but what I do is vaguely Paleo too dietwise.
You're now at a normal weight. In my experience it's very difficult to lose 1.5 lbs a week at normal weight. Don't starve yourself, your current eating looks fine, but increase your exercise to 1000 calories per day by walking/swimming/biking for hours. Every day. A 2 mile jog is only about 20% of what you need to lose at a high rate. Add upper body lifting so you won't lose your chest, shoulder and arm muscle.
Where's the fish? Lose the chicken, larabars, chips and biscuits and eat seafood in their place. And limit the booze to 3 oz a day.
on October 02, 2015
at 12:09 PM
You're definitely not drinking enough water. You need 3L to a gallon a day. I suggest trying my fitness pal to track your food, exercise, and goals. Pork has a lot of fat & salt and makes you retain water, try a diet without it. Eggs are high in cholesterol so one egg yolk per day and a few egg whites are okay. You should also eat more vegetables , to make sure you're getting enough fiber.
Exercise wise you should start lifting weights. It will not make you bulky. You'll actually burn more calories doing nothing if you have more muscle mass.  Try to work out each muscle group once a week to start off.  
Sign in to Your PaleoHacks Account