Please hack my precious.
Answered on August 19, 2014
Created June 09, 2012 at 11:56 PM
I feel like I have Gollum from the Lord of The Rings in my head. Hack him away please.
Grasping, reaching for that preeeciiiiooooous pizza, chocolate, ice cream. Then my rational side kicks in, summer is here, rationally I want to be healthier and thinner. I generally go about eating poorly for a few days to a month or two, gaining a few to 10lbs until I get back onto a 80% paleo-ish Perfect Health Diet-ish way of eating and lose it again. It happens over and over. I've seen the movie already, how can I change the channel to watch something else?
When I go 1-2 months without having "my precious" I don't crave it anymore. Smeigel goes away. Getting off is a challenge and roller coaster I get on and off every month.
I guess it is easier to have none than a little to something one has a sensitivity towards.
Any advice before I fall into the boiling lava pits of Mordor?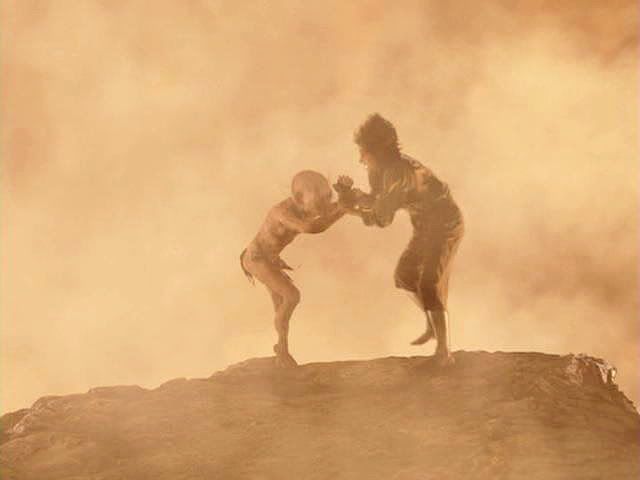 Get FREE instant access to our Paleo For Beginners Guide & 15 FREE Recipes!
on June 10, 2012
at 12:11 AM
Eat fish instead, precious.
And if temptation is too much, maybe have some taters, precious?
on June 10, 2012
at 12:40 AM
I have found it really helpful to make batches of snacks to keep around, while making sure NOT to have bad things around that can be snacked on. Try keeping a tub of cooked chicken thighs in your fridge. Throw a little mustard or salt on those bad boys and they do a great job of getting you that tasty fix you need. Nuts can be expensive if you eat them en masse, not to mention that that ends up being a TON of calories and n-6. Hard boiled eggs are pretty amazing, too, since you can cook quite a few ahead of time and then just de-shell a few at a time to have the next couple days.
Beyond that, try to make sure you're getting enough calories on a daily bases, mostly from protein/fat, and you might find it easier to avoid cravings. Try to stay in tune with how much you've eaten at any given meal so you can approximate when you'll start to get hungry again.
I've found that banana chips (cooked in coconut oil) are good if I really want something sweet. Yeah, it might bump up my carb load a little higher than optimal, but at least they're relatively harmless otherwise -- no wheat crust or dairy. I get cold sores in my mouth almost without fail if I get too much gluten in there, so I don't really have trouble with leaving it out of my craving binges. Being in tune with the specific consequences of cheats/slips can really help you avoid them. You can say to yourself "If I down this ice cream, I'm going to be gassy and feel bloated for 30 hours." or "If this pizza enters my face, I'm gonna shit liquid for the next day and a half." Know thyself. :D
As a first step, you could find paleo substitutes for your most common cravings and not worry about eating them as a craving food. Then, slowly decrease the amount you eat when you have a craving. A big problem with some of these craving foods is that they are really really damned convenient, and it takes some effort to cook and create all of your own health.
Hope it helps!
on June 10, 2012
at 12:55 AM
IMO some of us just can't do 80/20. When I've tried to do it that way, one small scoop of ice cream at a restaurant turns into a freezer full of Haagen Dazs in no time at all. Maybe after enough time, those of us with carb addictions could manage to keep it under control. Maybe not. Best thing I can tell you is if you can't cheat and then step back; don't cheat at all.
Sign in to Your PaleoHacks Account