Can I use fish as my main protein source?
Commented on June 01, 2014
Created May 31, 2014 at 3:17 AM
Hello, I'm living in Japan where "meat" sources are expensive and almost assuredly NOT grass fed or humanely raised. I have a slight egg allergy (causes an upset stomach and acne outbreak) so I avoid it as best I can. Having been raised in America, I have an ingrained fear of mercury poisoning from fish. It seems like in America everyone is quick to tell you to eat only a few servings a week. In Japan however, if I ask, "Aren't you afraid of mercury poisoning?" I get a quizzical look, and a, "Nope. I've worried about that." I recently read Chris Kresser's article about the safety of eating fish, which is reassuring. (Here's the article: http://chriskresser.com/is-eating-fish-safe-a-lot-... What I really want to know is- can I eat a paleo diet primarily of vegetables, wild salmon, chub mackarel, bonito, squid, and cold yellowtail without worries? How many grams of fish can I eat per kilogram of my own body weight?
Views




1.7K

Last Activity




1937D AGO
Get FREE instant access to our Paleo For Beginners Guide & 15 FREE Recipes!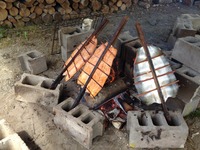 on May 31, 2014
at 10:09 AM
I think a reasonable fish portion per day would be 300 grams, or 3-4 grams fish per kg body weight. I've had the mercury concerns eating bottom fish like flounder and pollock from enclosed waters (Puget Sound), where there were at one time a lot of chlor-alkali and creosote plants. I wouldn't be as concerned about ocean caught fish.
on May 31, 2014
at 03:40 AM
since I spend significant time in Japan, and probably all of next summer, I can perhaps give you advice. First, as you know the soups are fantastic there, and made with 24-hours bone broth. You should make sure you get some of it, or alternatively eat a lot of fish skin and bones, to complete your proteins (get glycine). It was not difficult to find them with rice or buckwheat noodles, both of them easier on your system.
Second, to diversify your proteins I suggest natto and egg yolks, typical breakfast food but also most people sensitive to eggs are in fact sensitive to whites. I found Japanese farmer markets to be high quality, the real problem for me is always finding enough fats. When I will come for a long period I may bring some olive oil, some tallow, and some coconut oil.
There is also a company in Nagoya shipping frozen meats of all sorts. The chicken livers were relatively cheap, and the kangaroo meat also was cheap and certainly grass fed.
Sign in to Your PaleoHacks Account