Why does fat slow down the absorbtion of carbs?
Answered on September 12, 2014
Created October 22, 2012 at 11:35 AM
Thats basically it. We all know, add fat, lower the glycemic index of any carb. Thats why for some crazy reason, ice cream sugars are absorbed slower than starch in white bread (ie lower gi).
How/why does this happen?
Views




8K

Last Activity




1403D AGO
Get FREE instant access to our Paleo For Beginners Guide & 15 FREE Recipes!
on October 22, 2012
at 01:24 PM
Here's one explanation ...
How to Minimize Hyperglycemic Toxicity
Fat Reduces GI

J Stanton has noted that adding a little fat to a starch is very effective in lowering its GI. In a post titled ???Fat and Glycemic Index: The Myth of Complex Carbohydrates,??? JS states that:

???Flour tortillas have a GI of 30, compared to a GI of 72 for wheat bread, because tortillas are made with lard.
???Butter reduces the glycemic index of French bread from 95 to 65.
???A Pizza Hut Super Supreme Pizza has a GI of 30, whereas a Vegetarian Supreme has a GI of 49.

JS suggests that the reason fat does this is that it lowers the gastric emptying rate, and cites a study which showed that adding fat to starches could increase the gastric emptying time ??? the time for food to leave the stomach ??? by 50%. [4]

What???s interesting to me here is that what we really care about is not the glycemic index, but the peak blood glucose level attained after a meal. It is blood glucose levels above 140 mg/dl only that are harmful, and the harm is proportional to how high blood glucose levels rise above 140 mg/dl. So it???s the spikes we want to avoid.

But another paper shows that gastric emptying rate is even more closely tied to peak blood glucose level than it is to glycemic index. From [5]: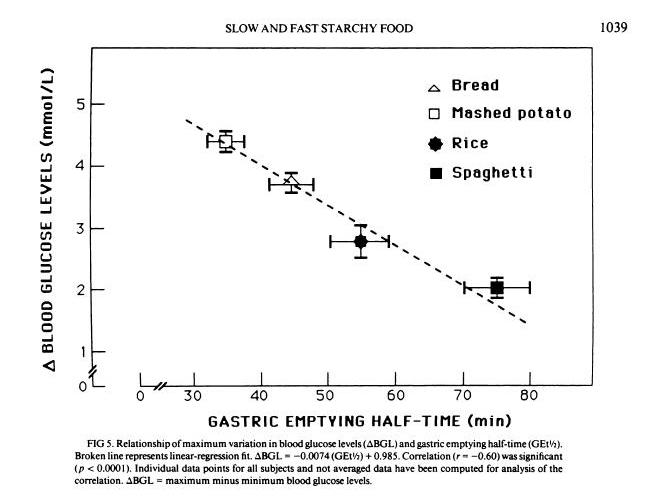 So combining a starch with fat may reduce peak blood glucose levels even more than it reduces the glycemic index; which is a good thing.
on October 22, 2012
at 02:37 PM
Fats jump to the front of the line in digestion which makes for a slower bowel emptying and slower infusion of sugar into the bloodstream.
on October 22, 2012
at 02:25 PM
Can someone also elaborate on how the liver becomes insulin resistant by consuming (especially) saturated fat and if it's something one should worry about long term? Sorry if I'm hijacking the thread, but I think the question is somewhat related as we're talking about the absorption of fat and carbs.
Sign in to Your PaleoHacks Account