Does eating fat with starch decrease the digestibility of the starch?
Answered on September 12, 2014
Created July 20, 2011 at 5:29 PM
I just came across this comment from Don Matesz on his most recent blog post:
...I think that increasing starch while simultaneously still getting ~50% or more of calories from fat reduces the digestibility of the starch, resulting in larger amounts of starch making it to the large intestine for fermentation. Generally, 10-20 percent of starches go undigested anyway, but fats can coat starch molecules, making it difficult for starch-digesting enzymes to break down the starches in time for them to be absorbed...as a result, more undigested starch makes it to the colon than when starch is consumed with very little fat. In fact, this effect of fat on slowing starch digestion is one of the erroneous 'rationales' people give for always eating fats with starches.
Could this be the reason why the glycemic response is lower in a meal of potatoes and fat than in a meal of potatoes alone?
http://journals.cambridge.org/action/displayAbstract?fromPage=online&aid=8307865
Maybe the mechanism is not that the fat slows the absorption of the glucose in the small intestine, but that the fat "coats" the starch molecules and a larger percentage of them move through to the colon for fermentation, therefore reducing the total amount of glucose absorbed into the bloodstream? What impact could this have on indigestion and bacterial (over)growth?
Views




4.2K

Last Activity




1802D AGO
Get FREE instant access to our Paleo For Beginners Guide & 15 FREE Recipes!
on July 20, 2011
at 08:57 PM
Sounds like Don's making stuff up again...
on July 20, 2011
at 08:01 PM
This might explain what I've been calling the "croissant paradox". I normally don't do well with bread both for gluten and glycemic reasons, but when I eat a croissant (has to be from a good French bakery) my energy seems pretty stable and I don't notice the normal gluten side effects that one wouldn't want to discuss in polite company. I've been picturing the butter creating a protective bubble around each little speck of flour to guide it safely through my small intestine. I'm probably wrong about the mechanism, but that's the best I've come up with so far.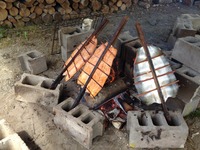 on July 20, 2011
at 07:25 PM
Fat/starch is the atomic bomb for health. Fat is the big calorie fellow traveler that moves 100 calories of potato to 500 calories of jo-jos. AND makes the potato infinitely more easy to overeat.
So nothing good comes from this combination. Blending fat with starch drives down glycemic index - through the effect of mixing in the 0 GI fat - but it doesn't change the energetic effect. Not a good digestive lever IMHO.
Sign in to Your PaleoHacks Account