Directly measuring rancidity?
Answered on August 19, 2014
Created March 27, 2013 at 5:21 AM
Oxidized fat seems like a bit of a bogeyman. We claim that way before you can taste or smell rancidity, innocent-looking fats are becoming toxic -- and the healthiest ones become the worst. People worry over their cooking techniques, their oil storage, their fish oil sourcing, etc, and you can never know if you're doing it right.
Wouldn't it be great if we could just find out?
Has anyone here tried chemically assaying fats for oxidation? Wikipedia's description of the standard peroxide value test sounds simple and uses commercially available chemicals. The microliter-precise titration is nontrivial, but I'm sure the community has at least a few professional or recreational chemists with the proper equipment and training.
Failing that, does anyone have a good reference for lab tests of fat oxidation under various household conditions and storage times? I've seen a few scattered papers, especially regarding the olive oil debate (plus a lot addressing foodservice and industrial contexts). But I'd love to see a thorough reference that uses consistent procedures to assay a variety of oils, at room temperature and under refrigeration, and following a variety of cooking techniques.
To clarify (since I was recently accused of "overthinking"), I'm not suggesting that chemically assaying oils should be part of your everyday cooking. I'd just like to have some evidence-based guidelines here.
Get FREE instant access to our Paleo For Beginners Guide & 15 FREE Recipes!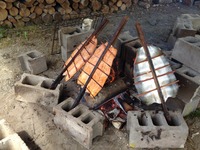 on March 29, 2013
at 06:35 PM
When I read this, iodine came to mind, so you might want to google iodine value. It's a stronger oxidant than peroxide, and is the standard test for a fat's degree of saturation. I don't know about it being useful for measuring rancidity. Still, you would expect that as oils with high degrees of unsaturation oxidize their iodine values would drop, and so IV should be a good measure of freshness if you know where the oil started. It would be very interesting to know what frying does to IV.
Sign in to Your PaleoHacks Account