Define metabolically deranged? Would this be abnormal elevated fasting insulin, fasting glucose, glucose levels post carbohydrate intake (1, 2, and 3 hours after meal), and/or belly fat count?
If this is true, would two thirds of Americans be metabolically deranged in some way?
http://drjengunter.wordpress.com/2012/01/30/more-than-two-thirds-of-americans-are-overweight-the-normalization-of-unhealthy/
Skinny-fat also a problem:
http://drhyman.com/blog/2012/05/22/skinny-fat-people-why-being-skinny-doesnt-protect-us-against-diabetes-and-death/
The reason this question is important because I wonder if a Kitavan style high-carb Paleo/Ancestral diet may not be optimum for a significant group of people who are metabolically deranged?
Views




3.4K

Last Activity




1978D AGO
Get FREE instant access to our Paleo For Beginners Guide & 15 FREE Recipes!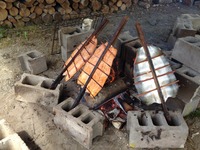 on August 24, 2012
at 04:24 PM
The greatest benefit for me in reversing type 2 diabetes came from reducing the QUANTITY of carbs I was accustomed to eating. Macronutrient ratio is not as important as reducing serving size to an amount that can be easily metabolized.
on August 10, 2012
at 12:36 PM
I highly doubt that 3/4 of American's are metabolicalyl derranged, but this is only going on my own observation and I have no hard data to back it up. For me, I'd say only 20% of the people I interact with on a day-to-day basis look insulin resistant. However, my sample is probably not representative of the general population, as I go to a very preppy, private university, and obese people tend to have both lower IQs and lower incomes, as well as not being as invovled in athletics. So, there's that.
And, you're absolutely incorrect in assuming a high carb, low fat diet cannot reverse diabetes. What reverses diabetes is exercise and acute, short term caloric restriction coupled with long term continuance of exercise and removal of seed oils and refined sugar.
You do not like to hear it but 800 calories a day with > 50% of calories from carbohdyrate for 2 months reverses type 2 DBM.
People get diabetes from binge eating and not exercising. Start exercising and eat hypocalorically and you'll reverse the disorder.
IMHO, exercise is vastly superior to eating a low carbohydrate paleo/primal/ancesteral diet
on July 27, 2012
at 08:36 AM
I wonder if Kitavan diet might be not suitable even for perfectly healthy people, for example, what if you feed healthy inuit perfectly paleo 70% carbs diet while his ancestors from the time immemorial ate around 0 carbs?
It would be also interesting to feed kitavan 0 carb diet for a while and see result.
Okinawan diet goes in the same pile as Kitavan diet.
Sign in to Your PaleoHacks Account